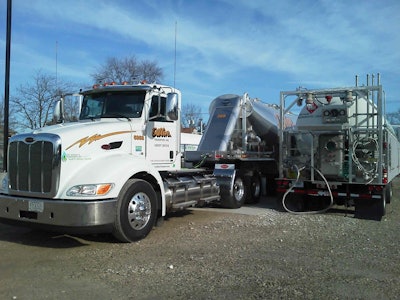 Company: Dillon Transport, Inc., Burr Ridge, Ill.
2013 CCJ Top 250 rank: 218
Industry segment: Tank
2012 revenues: $81 million
Revenue change vs. 2011: 24.6 percent
Power units: 425
Trailers: 600
Drivers: 525
Dillon Transport, a liquid and dry bulk hauler based in Burr Ridge, Ill., has been leading the charge in adoption of liquefied natural gas-powered tractors in the industry.
The company currently has a fleet of 25 LNG tractors that operate out of Seville, Ohio, for delivery of raw materials into Owens Corning plants. In May, the company announced the order of 25 tractors with Cummins Westport ISX12 G natural gas engines and plans to run the trucks from its Dallas terminal to haul asphalt, sand and other raw bulk products. The trucks are specified with both a 72- and a 150-gallon LNG tank to provide a range of about 650 miles and are expected to make two 600-mile round trips per day in a driver slip-seat operation. LNG refueling typically will be done twice a day.
Dillon Transport took a customer-oriented philosophy to natural gas adoption, which made a big difference in how they approached the process.
"You need a world-class shipping partner who will say, 'If you run clean, we will support you," said Phil Crofts, marketing director, during the CCJ Fall Symposium last December. "On our end, if we can assure a shipper that their fuel surcharge is not going
to move, we can then make a pretty compelling case to get their business. Additionally, if we can go to a shipper and tell them that we'll reduce their carbon footprint, it's a strong marketing position for us."
<<No. 238: Paper Transport, Green Bay, Wis.        No. 183: E.L. Hollingsworth & Co., Flint, Mich.>>