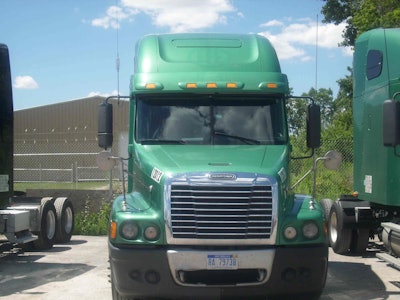 Company: E.L. Hollingsworth & Co., Flint, Mich.
2013 CCJ Top 250 rank: 183
Industry segment: General freight
2012 revenues: $96 million
Revenue change vs. 2011: 27.3 percent
Power units: 590
Trailers: 976
Drivers: 617
With the big drawdown of troops from the wars in Iraq and Afghanistan over the last couple of years, lots of trucking companies have talked about targeting veterans. E.L. Hollingsworth & Co. put its money where its mouth is.
In June 2012, the Flint, Mich.-based truckload, less-than-truckload and logistics company launched a free truck driving school to train honorably discharged veterans for a Class A commercial driver's license. E.L. Hollingsworth offers permanent full-time employment to those who successfully complete the program. Initially, the offer for free training was limited to military personnel who had been discharged within the past 12 months. The company now has extended the offer to those honorably discharged within the past three years.
In announcing the program last year, the company said that it had good-paying jobs for veterans and that the no-cost opportunity would help smooth their transition back to the private sector. "We believe the training our veterans received will make them great candidates for a career that requires responsibility and hard work," said Jeff Berlin, executive vice president and chief financial officer. "All they need is the career-specific training we can provide." The company maintains targeted recruiting resources for the military, including a special web page at www.elhc.net/vets.
For E.L. Hollingsworth – a company that has been hauling freight since 1924 – the program offers the prospect of more drivers, and it needs them. The company, which has experienced tremendous growth in automotive parts, posted a 27.3 percent jump in revenues during 2012 compared to 2011.
<<No. 218: Dillon Transport, Inc., Burr Ridge, Ill. No. 151: Smith Transport, Roaring Spring, Penn.>>