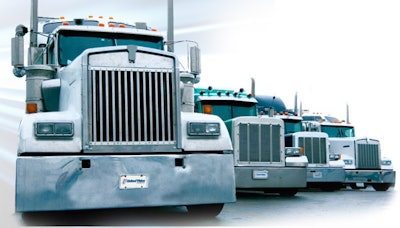 Company: United Vision Logistics, Inc., Lafayette, La.
2013 CCJ Top 250 rank: 55
Industry segment: Heavy hauling
2012 revenues: $470 million
Revenue change vs. 2011: -4.5 percent
Power units: 2,213
Trailers: 1,722
Drivers: 2,081
United Vision Logistics – a transportation and supply chain management provider for general commodities and transportation and logistics provider for the oil industry – announced a major change in ownership and restructuring. Company management – including Ronnie Murphy, UVL executive chairman – will collectively become significant shareholders in the company under the new structure. GE Capital will become a significant shareholder and continue as the lead lender. The company previously was owned by investment firm Welsh, Carson, Anderson & Stowe.
With the exception of Murphy and John Patterson, director and chief executive officer, UVL will have an entirely new board of directors with extensive business, transportation and oil industry expertise and experience.
"I am delighted that management will be shareholders and to enjoy the full support of UVL's premier commercial lenders," said Murphy. "While we are focused on safety, service and adding value for our customers, we do see excellent growth opportunities for UVL going forward."
"Considering UVL's many years of experience, expertise and leadership in transportation, logistics and energy, we are pleased to support UVL as its principal lender and a signifi- cant shareholder," said John G. Martin, president and CEO of GE Antares Capital. "We are excited about the opportunities in the space UVL occupies and that UVL will pursue."
<<No. 92: Epes Carriers, Greensboro, N.C. No. 27: Cardinal Logistics Management Corp., Concord, N.C.>>