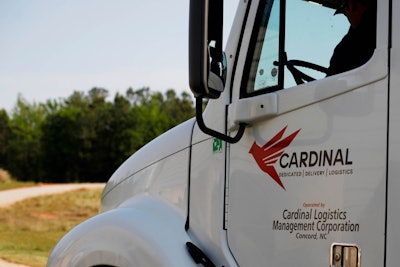 Company: Cardinal Logistics Management Corp., Concord, N.C.
2013 CCJ Top 250 rank: 27
Industry segment: Dedicated contract carriage
2012 revenues: $850 million
Power units: 4,451
Trailers: 8,949
Drivers: 4,700
It has been a busy year for Cardinal Logistics Management. In August of last year, the dedicated carrier  was acquired by Centerbridge Partners L.P., a $20 billion private investment firm.
Last February, Cardinal and Greatwide Logistics Services announced the completion of a merger to create a logistics organization with annual revenues in excess of $1 billion. Last year, Greatwide was the No. 17 fleet in the CCJ Top 250, while Cardinal came in at No. 72.
The merged companies, operating under the Cardinal name, combined long-haul service with last-mile delivery operations to create one of the largest dedicated fleet operations in the country with 4,700 drivers and 190 operating locations to serve customers in grocery, bulk food, retail, metals and building products.
"We are excited that this transaction creates an industry-leading logistics company that is supported by a strong customer base, experienced management team, best-in-class company drivers and owner-operators, and a differentiated technology platform that enables creative low-cost solutions for our customers," John Tague, Cardinal's chairman and chief executive officer, said at the time of the merger.
<<No. 55: United Vision Logistics, Inc., Lafayette, La.        No. 6: Schneider National Carriers, Inc., Green Bay, Wis.>>