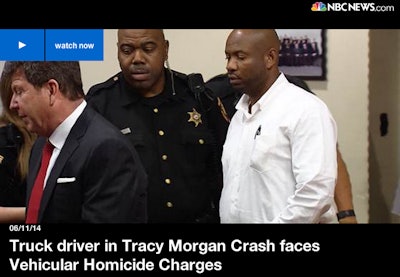 Walmart driver Kevin Roper has pleaded not guilty to the vehicular homicide and assault by auto charges filed against him in the June 7 crash that killed comedian James McNair and critically injured actor Tracy Morgan.
The complaint filed against Roper said he had been operating recklessly, and several news outlets have reported since the crash that he had not slept in 24 hours, though he had taken the proper off-duty time per federal hours-of-service regulations.
Walmart released a statement this week saying that as the facts become more clear in the case, "if it's determined that our truck caused the accident, Walmart will take full responsibility."
The accident came several days after Senate action to suspend parts of the current HOS rules and allow drivers to operate under pre-July 2013 restart rules.
It's unclear what impact the high-profile crash could have on lawmakers' decisions on continuing with the HOS suspension, but the American Trucking Associations has affirmed its support for Congressional action, saying the restart provisions actually decrease safety and that the driver involved in the crash did not use his time off to properly rest — something neither carriers nor the government can dictate.