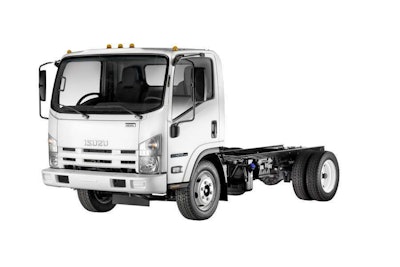 Isuzu Commercial Truck of America has introduced the latest addition to its wide range of N-Series diesel trucks, the NPR-XD. With a gross vehicle weight rating of 16,000-lb., the NPR-XD bridges the gap between the NPR-HD, with its GVWR of 14,500-lb., and the 17,950-lb. GVWR NQR. The new model was announced as part of the continuing celebration of the 30th anniversary of Isuzu trucks in the U.S. market.
 "This new diesel model meets a number of vocational applications and requirements that previously might have required moving from an NPR-HD up to the NQR," according to Shaun Skinner, executive vice president and general manager of Isuzu Commercial Truck of America. "Now, the NPR-XD offers more payload capacity at an even more competitive price."
Highlights
The NPR-XD will be offered in the same cab configurations and wheelbases as the NPR-HD:
The NPR-XD standard cab will be available in 109, 132.5, 150 and 176 inch wheelbases and will provide a body/payload allowance ranging from 9,281to 9,490 lbs.
The NPR-XD crew cab will be available in 150 and 176 inch wheelbases and will provide a body/payload allowance ranging from 8,711 to 8,779 lbs.
All NPR-XDs will offer 19.5-inch wheels, 225/70R-19.5F 12-ply low rolling resistance tires, a front gross axle weight rating of 6,630 lbs. and a rear GAWR of 11,020 lbs.
Every NPR-XD will be powered by the legendary Isuzu 4HK1-TC 5.2-liter turbocharged diesel engine. Mated to a six-speed automatic transmission, the powerplant delivers 215 horsepower and 452 lbs.-ft. of torque at 1,850 rpm. The engine carries a B10 durability of 310,000 miles—meaning that 90% of engines should reach that mileage before requiring an overhaul.
The NPR-XD is also covered by the Isuzu 24 Months/60,000 Miles Covered Maintenance Program, which has been extended until December 31, 2014. The program includes: an initial 'Dry Service' at 4,000 miles, an 'A Service' beginning at 10,000 miles and continuing every 10,000 miles, and an inclusive 'A/B Service' at 50,000 miles. Maintenance services can be obtained at any of Isuzu's dealerships in the U.S.
Range of Models
The Isuzu diesel truck line now includes the fuel-efficient NPR ECO-MAX, NPR-HD, new NPR-XD, NQR and NRR models, with GVWRs ranging from 12,000-lb to 19,500-lb.
In addition, Isuzu offers NPR and NPR-HD models with gasoline-powered engines, the only gas-powered low cab forward trucks available in the U.S.
Reflecting on the addition of the NPR-XD model on the occasion of Isuzu trucks 30th anniversary in the U.S. market, Skinner said, "Our goal remains unchanged: to offer our customers the most diverse line of low-cab forward trucks that provide the lowest cost of ownership in the market. The new NPR-XD will help further reach that goal."