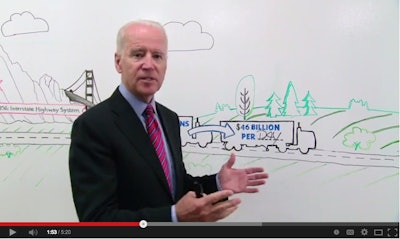 With only days left before the Highway Trust Fund runs dry, and as Congress rushes to find a solution before the August break, the White House continues to pitch infrastructure investment and its Rebuild America program, with Vice President Joe Biden taking to the whiteboard in this video explainer. (Trucking gets a shout-out about a minute-and-a-half in.):
[youtube 5iap8kpHRsA nolink]
The administration's plan for long-term surface transportation funding has been generally ignored by Congress, however.
The House recently passed a short-term patch to the funding shortfall, and the Senate will pick and choose from a Chinese menu of options:
The House bill
A modification by Senate EPW Chair Barbara Boxer that would set a year-end deadline for the fix, rather than funding it through next May, a change which would likely force a lame duck session after the November elections to consider a long-term solution
The sweeping reforms of Transportation Empowerment Act, sponsored in the Senate by Republican Mike Lee, a five-year plan which would transfer authority over federal highway and transit programs to the states and lower the gas tax to 3.7 cents from 18.4 cents; and
An amendment to speed the repair of disaster-damaged roads and bridges, from Sen. Pat Toomey, a Pennsylvania Republican.
The Senate vote is expected Tuesday, though that's not official.
American Trucking Associations has called on the Senate to adopt a shorter term patch for the Highway Trust Fund in order to pass a long-term, well-funded highway bill "sooner, rather than later."
"Moving from one funding crisis to another will force states to cancel or delay even more crucial highway projects, putting jobs and the economy at risk," says ATA President and CEO Bill Graves. "The December deadline provides the cushion needed to avert near-term funding interruptions for states and provides ample time for lawmakers to resolve the long-term challenge facing the Highway Trust Fund."
CCJ's previous coverage of the highway bill reauthorization, with enough DC debate to require an oversize permit, is here – except, of course, this load isn't going anywhere. Here's the official White House Build America page.
Things can't be good when a TV funnyman seems to understand the problem better than policymakers.
Stay tuned.