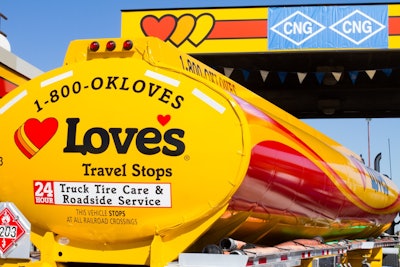 Love's Travel Stops announced plans to open fast-fill compressed natural gas fueling capabilities for heavy-duty trucks and a CNG fueling option for passenger vehicles at existing travel stops in Ardmore and Webbers Falls, Oklahoma. The additions are expected to open in mid-2015 and will bring the number of Love's Travel Stops in the state offering fast-fill CNG for heavy-duty trucks to 16 nationwide.
"We believe these locations will be in areas of high demand as the market for this cost-efficient fueling alternative evolves," said Bill Cashmareck, general manager of natural gas at Love's. "Ardmore will provide additional coverage for fleets that use the popular I-35 route between Oklahoma City and Dallas/Fort Worth. Webbers Falls will add another stop to our locations along I-40 that currently have or will soon be equipped with Love's Fast-Fill CNG."
The Ardmore location will be the second Love's with fast-fill CNG for heavy-duty trucks on I-35. The Webbers Falls location will be the sixth Love's on I-40 to receive fast-fill CNG. Love's says its fast-fill CNG locations on I-40 will give fleets the option to run on CNG from Arkansas to California.