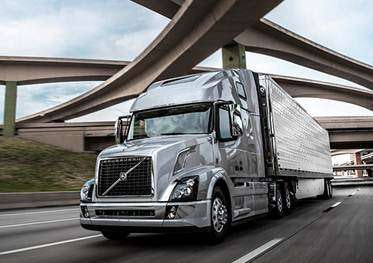 Volvo says its model year 2016 VN series highway tractors will deliver even greater fuel savings compared with previous generation models through an assortment of aerodynamic and powertrain enhancements. Further sculpting of airflow around the exterior and underneath the hood improves fuel efficiency by up to 3.5 percent. Volvo's new XE-Adaptive Gearing and Torque Management options can provide fuel efficiency improvements of more than 2.5 percent.
"With Volvo's model year 2016 vehicles come an even greater value of ownership as we continue to refine the aerodynamic profile of our VN series tractors and redefine traditional expectations of powertrain performance through our integrated Volvo engines and I-Shift transmission," said Göran Nyberg, president, Volvo Trucks North American Sales & Marketing. "Our latest enhancements provide a strong complement to the fuel efficiency improvements of up to three percent provided through last year's introduction of Greenhouse Gas (GHG) 2014-certified engines."
Aerodynamic Enhancements
Enhancements to the bumper, chassis and roof fairings of model year 2016 VN series highway tractors reduce air turbulence around the vehicle exterior and improve airflow under the truck, around tires and the trailer gap. Reducing turbulence and disruptions in airflow from the tractor to the trailer helps improve fuel efficiency.
"In real-world operations, an aerodynamic tractor doesn't guarantee optimal aerodynamics for the tractor-trailer combination," said Jason Spence, Volvo Trucks product marketing manager. "Through our holistic design approach, we've made further enhancements at key exterior and interior locations of our model year 2016 vehicles to greatly improve the transfer of air from the tractor to the trailer, ultimately improving the total aerodynamic performance of the complete vehicle."
Powertrain Enhancements – XE-Adaptive Gearing and Torque Management
Building on the success of its XE – eXceptional Efficiency – powertrain packages, Volvo will offer an XE-Adaptive Gearing package to further boost fuel efficiency for operations that go out loaded and return empty or lightly loaded, like bulk haulers, liquid tankers and flatbed carriers. XE-Adaptive Gearing provides the same benefits for dry van trailers operating under the same conditions.
The system is both a direct and overdrive driveline depending on rear axle load, which the system senses in real-time. When loaded, the transmission locks out the 12th gear and provides the performance and fuel efficiency benefits of direct drive. During unloaded or lightly loaded trips, the driveline operates in overdrive, providing enhanced fuel efficiency and even greater driver comfort. Customers can select road speed limits for loaded and unloaded portions of the trip, customizing their vehicle speeds to fit operating needs. XE-Adaptive Gearing engine ratings will initially be available for Volvo's D11 and D13 engines paired with an I-Shift automated manual transmission.
Volvo Trucks is also offering three new torque control features designed to increase fuel efficiency, tire life and decrease driveline stress. The expanded offerings utilize Volvo's numerous multi-torque engine profiles to provide ideal torque management in multiple operating environments.
"XE-Adaptive Gearing and Torque Management powertrain options provide unprecedented customization for customers looking for an optimized solution to fit their specific needs," said John Moore, Volvo Trucks product marketing manager – powertrain. "Our wide selection of torque management software allows motor carriers to break free from traditional driveline options and choose a spec that's been tailored to terrain, load type, delivery and performance requirements."