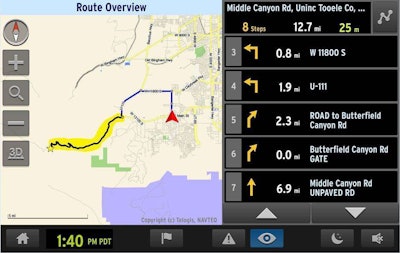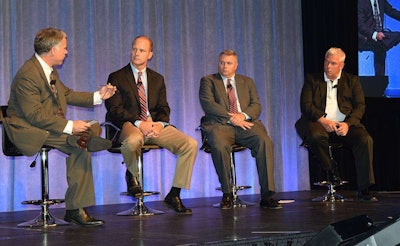 Fleets today are starting to see real benefits from maintenance-focused telematics systems on trucks — but work remains to fully optimize current communications systems. That was message from a panel of telematics experts speaking to attendees at the Commercial Vehicle Outlook Conference (CVOC) ahead of the Great American Truck Show in Dallas Aug. 21.
The panel was moderated by Kennon Guglielmo, CTO with Enovation Controls, who noted that the trucking industry has just entered the Third Stage of telematics adoption. "Stage 1 was the recognition of telematics as a promising future technology — although for a long time it looked as if it would always remain a future tech," he noted. "The second stage was the implementation of telematics in fleet operations and that it began to provide data and useful information to fleets."
Today, Guglielmo says fleets are now starting to refine both telematics systems and the data they are providing to really "move the needle" in terms of productivity and efficiency.
Rich Ferguson, senior vice president, aftermarket and soft products for the Volvo Group, echoed Guglielmo's remarks and noted that at the current adoption rate, soon there will be more machines connected to the internet than there are people on the planet.
"Customers are telling us what they want to see," he says, "and that reflects where Volvo believes the industry is heading in terms of telematics today. The push now is for real time connectivity between the truck, the load (the customer) and the driver. And this needs to go hand-in-hand with integrated solutions from the factory with robust, cloud-based data. We're also seeing a demand for more choices in service providers to create value from the data."
Additionally, Ferguson says, Volvo believes that the display mechanism for vehicle-focused telematics will shift toward a "Bring Your Own Device" model — whereby drivers and fleet professionals will increasingly use hand-help devices like computer tablets and smart phones to access information.
Prognostic capabilities will become the preeminent telematics feature in the near future, according to Scott Newhouse director of product planning and strategy for Peterbilt. "The focus on telematics today is to minimize downtime," Newhouse explained. "The next step will be for it to maximize uptime."
To do this, Newhouse said prognostics systems will soon be able to identify failures before they occur, reduce needless component replacement and maintenance, receive remote software upgrades and provide usable reliability data to enhance future truck designs.
Jim Coffren, vice president, maintenance for Hirschbach, provided a fleet perspective on the evolution of telematics. He said Hirschbach is using telematics data to determine its best-performing assets to understand where it is making money and why. "The key here is to leverage telematics as a comprehensive way to control costs and maximize uptime," he said. "We estimate that when all costs are tallied, downtime costs more than $400 an hour for fleets. But soon, we'll be able to control that downtime. We'll be able to predict it. And although a truck may be down, you'll know three or four days in a advance and be able to plan for it and have assets in place to keep you driver on the road and the load moving."
One negative Coffren called out is the lack of standardization in the industry concerning how telematics work and interface with both fleets and drivers. "We need to move toward one device across all product lines and one standard for how the systems work."