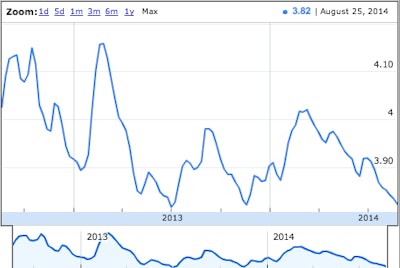 The national average price for a gallon of on-highway diesel hit its lowest point since the week ended July 1, 2013, after falling 1.4 cents in the week ended Aug. 25 to $3.821, according to the Department of Energy's Energy Information Administration.
The price of diesel has now fallen eight straight weeks, dating back to the week ended July 7.
The national average price has fallen just under 10 cents in that time.
It's also down about a dime — 9.2 cents — from the same week in 2013.
Average prices also dropped in all regions except the Rocky Mountain region, where the price rose four-tenths of a cent.
The Central Atlantic and East Coast as a whole led all price decreases with 2.5-cent and 2-cent drops, respectively.
California had the country's most expensive diesel, $4.084, followed by the West Coast (including California), at $4.010. All other regions were below $4.
The Gulf Coast again had the country's cheapest diesel, $3.732, followed by the Midwest's $3.763 and the Lower Atlantic's $3.771.