A "Connected Vehicle" panel during the first day of the 2014 Commercial Vehicle Outlook Conference probed how technology is used to "improve driver performance" from fleet and OEM arenas. Brent Nussbaum, CEO of Nussbaum Transportation, in some ways voiced the conscience of the session by stressing that technology alone won't solve fleet problems relative to safety and fuel efficiency. Drivers' buy-in to any system is crucial, he said.
"If you want to build a culture that encourages driver performance, it starts with bedrock principles," he said. Nussbaum's father, who started the now-truckload carrier as a regional LTL more than half a century ago, "operated under a simple principle: if you take care of your people, the rest of it takes care of itself."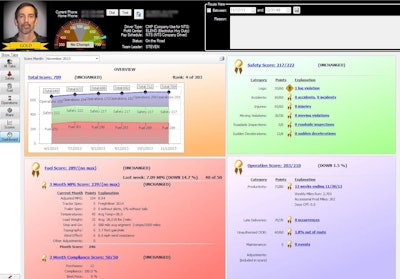 Nussbaum's internally-developed "Driver Excelerator" scorecard is a system in which drivers earn points for performance that are tied directly to quarterly bonuses.  Younger drivers at the company, in particular, have "bought into this in a huge way," he says.
Pulling information from the PeopleNet on-board computing units in the company's trucks as well as "other outside" data wells, the system "assigns points based on performance in three areas — fuel, safety and operations," Nussbaum said. Anytime a driver calls in, his picture and profile is automatically presented to the driver manager, all of whom are tasked helping the driver "get those scores up." 
Net results are multifold, but fuel-mileage gains have been huge since Nussbaum began utilizing the system in 2011. The fleet's average has moved higher and higher — a net gain of 26 percent.
Brent Nussbaum singled out one driver who's been able to achieve on a dedicated Ohio-Minnesota run an average of more than 10 mpg with about an "$1,800 quarterly bonus for building his points. … If the company's doing well, we want our people to do well."
Helping drivers along toward better fuel performance has been part of the company's strategy from the beginning as well. In addition to a big investment in side skirts for their van trailers (including specially designed full trailer-tandem-covering skirts developed with Wabash), trailer tails and other aerodynamic equipment, recent truck acquisitions of Freightliner's Cascadia Evolution trucks is showing a large boost in fuel economy further toward an 8.8 mpg average, among those new units.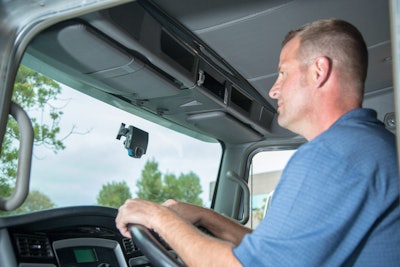 Safety improvement has been the focus of Minnesota-based J&R Schugel's adoption of Lytx's DriveCam dual-camera system, noted company Safety Vice President Clay Merches. The system captures on-highway video of triggered events, with a dual view out the window and trained on the driver, with a goal of coaching safety-critical technique on the road. Results for the company have been a dramatic reduction of speeding violations and other on-road incidents, a safety-performance improvement reflected in the numbers, crucial in the CSA era.
Merches shared video of a coachable incident where a driver was about to make a right-hand turn and was struck on his right side at the moment of full commitment to the turn. Video ultimately showed the driver had moved over too far to the left to make the wide turn, not blocking his current lane of travel. Also, "we were able to see that he did not look at his mirrors at all," Merches said. "Proper form and technique wasn't there to begin with. We developed a right-turn mirror station to help drivers develop this."
The large majority of accidents, however, are the result of four-wheeler error and no fault of the truck driver, but even in those incidents, camera footage occasionally reveals responses that could have saved equipment damage. Merches shared an incident in which a J&R truck was hit when "somebody went through a stop sign and clipped the truck tandems." 
While the truck driver later noted that "someone was running a stop sign and she'd anticipated it, and had already moved off the roadway when the contact happens," said Merches, at impact "she overcorrected," causing the truck to enter a ditch and roll over. The importance of a 15-second sight lead, he added, was emphasized in subsequent coaching. "We want to see quicker reaction times. 'Drive 2-3 mph slowered than the traffic around you will give you 3-5 extra feet of stopping distance.' I call this the 'Clay factor.'"
[youtube GPSABSCQXvQ nolink]
Panelist Gerard Devito, Eaton's executive director for the next-generation automated platform stressed the work Eaton's put into the elements of his "cheese wheel" of around 60 factors representing "all the things that can impact fuel economy," he said. "As a transmission supplier, we can only impact certain areas of this."
All the same, certain levers can be pulled via technology to get the biggest bang for the fuel-efficiency buck. Eaton's automated transmissions, he said, can be spec'd such that when drivers go into manual mode — "a great option when you're presented with weather" — shift points are still defined for maximum economy, just one example of where technology can be employed to work with, not against, the driver.
Illustrating a downside of automated transmissions, Nussbaum noted that if breakdowns occur and "you have to get another truck, but the driver can't drive a manual, it can be a bit of challenge."