The Commercial Vehicle Outlook Conference is taking place Aug. 20-21. Click here to see all of the coverage of the event.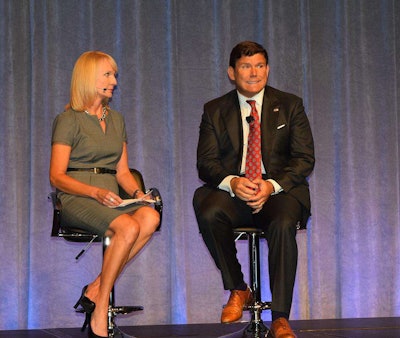 The upcoming mid-term election and civil unrest globally dominated discussion when Fox News anchor Bret Baier took to the stage Wednesday at the fifth-annual Commercial Vehicle Outlook Conference in Dallas.
Baier says this November's election is setting up nice for the Republican Party.
"This year could be a wave win for the Republicans," Baier says. "Some are calling this 'The Empire Strikes Back.' The Republican establishment has won almost every race recently with the exception of Eric Cantor (former Representative from Virginia)."
Baier says recent struggles by the Obama administration and an improved, slightly more moderate Republican candidate base is leading the way.
After the 2010 and 2012 elections, the Republican Party has decided "to appeal to a broader and more independent population," Baier says.
He notes six states in particular (Arkansas, Louisiana, Alaska, Georgia, Minnesota and Michigan) where Republicans could gain seats in the Senate, and expects Republicans also to maintain their control in the House of Representatives.
Baier believes Democrats "are far better positioned in 2016," with Hilary Clinton the overwhelming favorite to nab the party's Presidential nomination.
"The Clinton machine will be in full view" preparing for 2016, Baier says. And while he notes Clinton's term as Secretary of State could work against her — "Obama's foreign policy continues to get critics" — he finds it unlikely that it would be enough to knock her from the ticket.
"If an unknown catches fire, [Democrats] could rally to non-traditional choice," he says.
When asked, he said he doesn't expect much legislation before November.
"Politics is ugly. Especially before an election," he says, adding, "You wouldn't believe how many things both sides are really close on, then something happens and both sides retreat to their corners."
On the topic of foreign policy, Baier says the conflicts in Ukraine and Syria, as well as ISIS crimes in Iraq could force changes to the current administration's foreign policy tactics.
"The world is an unstable place … and ISIS is for real," he says. "You talk to people and they say they've never seen anything like" the atrocities ISIS has performed. Baier also mentioned the group's connection to Syria as a potential driver for policy changes.
"The strength of this group may change the equation of what the U.S. will do about Syria," he says.
Before turning to politics Baier opened his presentation by answering some general questions about his show and Fox News Channel.
"Yes, Charles Krauthammer is that brilliant. Yes, Megyn Kelly is that attractive. And yes, I did feel like meat in a lion's den when I went on Jon Stewart's Daily Show."
An 18-year veteran of Fox News Channel, "Special Report with Bret Baier" is now the top-rated cable news show in the United States. It is on weeknights at 6 p.m. Eastern.