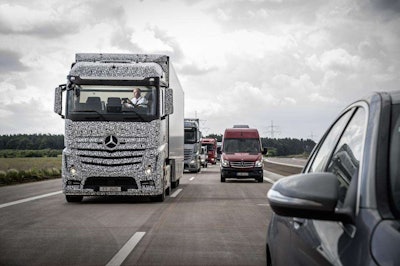 The deployment of autonomous trucks isn't here yet, but Rich Glasmann, vice president, OEM strategy, sales and marketing at Omnitracs, says it's not as far away as one might believe.
Speaking Thursday at the fifth annual Commercial Vehicle Outlook Conference in Dallas, Glasmann says the future of data usage in commercial trucking – prognostics, vehicle-to-vehicle communication and the driverless truck – are rapidly appearing on the trucking's horizon.
He says the speed in which they appear will rely not just on the advancement of technology, but also cooperation.
Bringing an autonomous truck to market will require teamwork from everyone: OEMs, suppliers, telematics providers.
"We cannot get to the future unless we start working better together," he says. "Proprietary information is always going to be an issue, but there has to be a relationship there between the different parties."
Daimler debuted its first autonomous truck this July in Magdeburg, Germany, and promoted the landmark vehicle as 'Super Truck 2025.'
With cooperation, Glasmann says 2025 could prove to be even closer.
"We're not ready yet, but I think by maybe 2022" there could be an autonomous truck available or nearing an assembly line in North America, he says.
In the meantime, Glasmann says telematics, prognostics and other vehicle communication will continue to improve.
"I think [telematics] is just the first step of what you're going to see in the future."
He notes over-the-air programming as a major opportunity nearing the market.
Over-the-air programming allows a truck to download an ECM update from its corporate hub or OEM without returning to a service bay, dramatically increasing the speed in which trucks are updated and sent back to the highway.
Glasmann says customers have been requesting this technology for "many years," but he warns that when it becomes available, it will need to be used correctly.
"You want to make sure your truck and driver are in a safe position to accept that download. If they can't accept that, you turn that truck into a brick," he says. "And if you are sending that information out to 10,000 or 20,000 trucks, you could create a lot of bricks."
Other opportunities also may appear in data, and Glasmann says each should be investigated for prospective vehicle improvements on behalf of fleet customers.
"At the end of the day it's doing what's best for our customers and giving them the opportunity to survive in their business," he says.