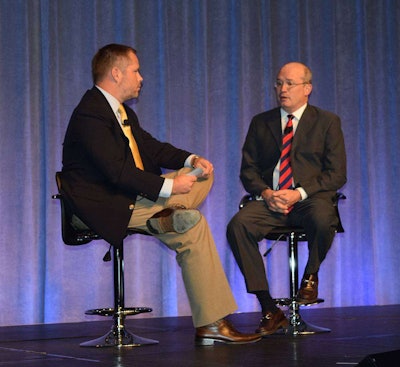 The U.S. economy isn't digging its way out of an economic slump; it's fracking its way out.
Donald Broughton, managing director, senior research analyst and chief market strategist, Avondale Partners – speaking at the Commercial Vehicle Outlook Conference in Dallas Thursday – says American fracking is a "gold rush" that will lead to energy independence and financial recovery.
"I believe we are living in a slow growth, no growth economy except for fracking," he says. "Fracking is so significant that it's been a big splash in the economic pond."
Led by fracking, Broughton says the U.S. is experiencing the first industrial lead recovery since the 1960s.
"Fracking is revolutionizing the American energy industry. We are going to be energy independent, or as close as we want to be," he says.
Fracking has become an American success story that compounds with every new frack.
"The amount of oil you get out of a frack is five to six times what it was in 2010, Broughton says, prompting other countries to learn the process.
"But they can't do it as well," he adds. "They haven't figured it out."
Since 2010, oil production in North Dakota has grown steadily and Broughton says he expects capacity to reach to upwards of 20 percent of the production of Saudi Arabia.
"Oil should be significantly higher than what it is," Broughton says citing tensions in the middle east and other political pressures.
Fracking and domestic oil production isn't the only positive sign of a solidifying economy, even if it has become the most significant.
Truck tonnage is growing at 3 percent and loads are up 2 percent.
"What I think is surprising how strong tonnage is despite that growth in intermodal has been fueled by domestic; truck-to-rail-to-truck," he says.
Public TL length of haul has dropped consistently while long haul truckload volume has shrunk.
Truckload demand by length of haul is up, despite losing intermittent 500-600 mile hauls to intermodal.
"We've had continued growth, we're well above previous peak and there's no reason to believe that trend is going to do anything but grow," he says, adding he expects spot pricing to remain strong with contract pricing getting stronger. "Pricing has stayed positive in periods of declining demand as long as capacity was also declining."
Fleets are rolling the oldest fleet in history with trucks averaging more than six years old, which Broughton says is making capacity tighter as older trucks spend more time in the shop and not moving freight.
Trading in for new equipment has also led to smaller fleets, further tightening capacity, as fleets trade in more trucks to cover the residual value gap against acquiring new trucks.
To cover the gap, for example, Broughton says fleets will trade in 10 of their older trucks to acquire seven new ones.
"We're basically 85 percent of where we were before going into recession," he says of the average number of trucks in public fleets.
Trucking failures have been on the decline since a spike in 2007 to 2008, even as diesel prices have hovered around $4 per gallon – nearly doubling in price in the same time frame. However, they have steadily increased year over year since 2012.
"We're seeing a steady increase in trucking companies going out of business even though the price of diesel is stable and demand is strong," Broughton says. "One hundred percent of them had one thing in common; they had all been forced or chosen to put EOBRs in their trucks."
Use of the EOBRs meant fewer miles driven with angry drivers leaving en masse.
"As a small operator, he's got 10-15 percent of his fleet sitting on the fence and now he's got to increase driver pay just to keep them flat. That's when the (downward) spiral starts."
Over the next few years, Broughton predicts EOBR will have increasing impact on capacity, and the driver market will get even tougher. Truckload pricing power will jump upwards of 6 percent and consolidation in transportation is likely to increase dramatically.
All this, Broughton says, uncovers that – for whatever reason – the U.S. economy is on the rebound.
"We're having a nice steady recovery despite what you see on TV," he says. "We're in a much better economy than many people understand."