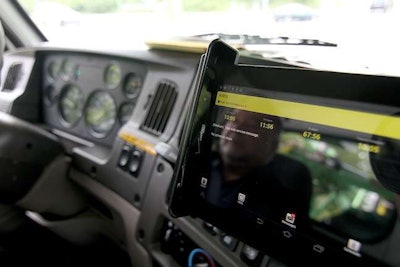 Omnitracs, a provider of fleet management systems to transportation and logistics companies, announced that it has agreed to acquire XRS Corporation. Subject to the terms and conditions of the definitive agreement, Omnitracs will pay $5.60 per share of XRS, which equates to $178 million in equity value.
"Given XRS Corporation's position as a leader in the trucking industry's migration to mobile devices for collecting and analyzing compliance and management data, we believe there could not be a better time than the present to combine," said John Graham, CEO of Omnitracs.
Development on the Android platform is critical to mobile computing, he said, and Omnitracs is committed to evolving its platform and adding these capabilities when they are thoroughly tested and meet the exacting needs of our customers.
"To that end, we will opportunistically look to incorporate XRS' capabilities into our plans.  We do believe with their technical expertise in the Android operating system that we will be better positioned to provide solutions to meet the evolving out-of-cab, smart device-based needs of the transportation industry," he said.
XRS Corp. delivers mobile software systems that it says help trucking companies manage their fleets, comply with regulations, and reduce operating costs. Starting in 2011, XRS started to migrate its platform to mobile devices for collecting and analyzing compliance and management data.
"The acquisition delivers an attractive premium for our shareholders, and for our employees and customers we are thrilled to become a key component of the broader Omnitracs portfolio," added Jay Coughlan, chairman and CEO of XRS.
In November, 2013, Vista Equity Partners acquired Omnitracs from Qualcomm. The next month, Omnitracs acquired Roadnet Technologies, a provider of fleet management software solutions to private fleets. Other previous acquisitions include Sylectus and FleetRisk Advisors, which is now Omnitracs Analytics.
The acquisition of XRS will allow Omnitracs to deepen its reach into small-, mid-sized and private fleets that are seeking in-cab and out-of-the cab, smart device-based solutions, Graham said.
The merger agreement was unanimously approved by the board of directors of XRS. Omnitracs expects to complete the acquisition in the fourth quarter of 2014.