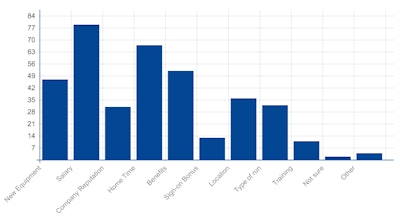 (National Retail Systems Inc. graphics)
Labor Day note to carriers: Respect for drivers might keep them around, but it's going to take more money to get them behind the wheel in the first place.
In a survey published last week by National Retail Systems Inc., 79 percent of the thousands of drivers polled nationwide agreed that salary was most important when choosing a job.
Additionally, home time (67 percent) was ranked second highest, while sign-on bonuses (13 percent) and training (11 percent) came in at the bottom of the driver wish list.
These results mirror those of a recent CCJ survey, What Do Drivers Want? (results below).
[slideshow_deploy id='104430′]
Curiously, only 31 percent of drivers in the NRS poll cited company reputation as an important factor – which could say something about truckload turnover rates.
Recent changes in the hours-of-service rule are changing the structure of the job, suggests David Bullins, NRS' east coast recruitment officer for truck driver jobs. NRS operates Keystone Freight Corp. and National Retail Transportation.
"That downtime ultimately means less money so drivers are now making the push to become local drivers instead," says Bullins. "Since drivers cannot run like they used to home-time has now become a higher priority."
With pay being most important to drivers it poses the question: how much are trucking companies able to increase driver pay?
"Market conditions will not allow transportation companies to increase pay beyond a certain level. With driver pay increases it is challenging for asset-based transportation companies to make money," says Joe Brady, vice president at NRS. "Customers are reluctant to raise pricing even though ever increasing variables such as new equipment, maintenance, and employee benefits continue to rise with inflation. These expenses add up, and transportation companies many times are forced to incur the cost-differential."
When drivers were asked how many truck driver jobs they have had in the past 10 years, 42 percent surveyed reported between three and five jobs.
"This just shows how in demand drivers are," Bullins says. "They can work for a company, and if they aren't happy with the color of their tractor or the tone of a dispatcher it is as easy as going down the street to pick up a new job."
And when that grass starts to turn brown on their current side of the fence, 79 percent of those polled said they go to the Internet to search driver jobs.
Forty-two percent of the drivers apply for two to three jobs at a time. Impressively, almost 8 percent say they apply for more than 15 jobs at a time.
"As a recruiter you need to process a driver quickly because within a couple of days they could already be driving for another company," says Lupe Casas, an NRS truck driver recruitment officer.
With many recruitment departments now allocating much of their budget to retention, NRS asked drivers what were the top reasons for leaving their previous job. Again, salary (43 percent) was at the top. Home time was the second most common reason (28 percent) for truck drivers to leave their current job.
"Companies are spending thousands if not millions of dollars per year towards advertising truck driver jobs instead of addressing some of the root causes of the truck driver shortage," says Chris Saville, NRS marketing director.