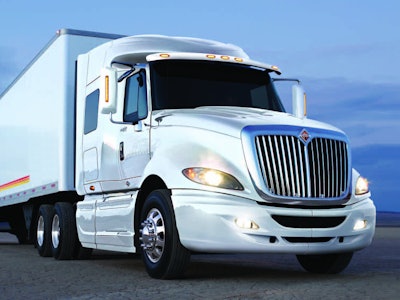 Navistar International reported a third quarter net loss of $2 million Wednesday, which should go down in the company's history books as a win for the financially battered truck maker.
For the first time since 2011, Navistar achieved quarterly income from continuing operations before income taxes ($21 million in the black compared to a loss of $211 million last year). Even the company's $2 million net loss was a bright spot, marking significant improvement over the net loss of $247 million for the same quarter last year.
"Our third quarter results reflect a number of positive trends including increased production, improvements in warranty charges, cost reductions that further lowered our breakeven point and our continued efforts to manage cash," says Troy A. Clarke, Navistar president and chief executive officer. "While we have work ahead of us to grow the business, improve our market share and further reduce our cost of doing business, we do take some satisfaction in achieving positive income from continuing operations before taxes — an important financial milestone we've not realized in our quarterly performance since 2011."
Third quarter 2014 EBITDA was $142 million versus an EBITDA loss of $74 million in the same period one year ago. This year's third quarter included a $29 million benefit in pre-existing warranty adjustments, partially offset by $20 million in restructuring and impairment charges. As a result, adjusted third quarter 2014 EBITDA was $133 million, which exceeded the company's third quarter guidance of between $75 million and $125 million, excluding pre-existing warranty and one-time items.
Navistar's warranty spend, a longtime drain on the company's balance sheet, improved in the third quarter, down 22 percent year-over-year.
"Warranty expense is coming down for the right reasons," Clarke says. "The trucks we have fixed are staying fixed."
Navistar COO Jack Allen says improved warranty costs, and fewer warranty claims from newer engines, are a positive indicator for sales prospects going into 2015.
"Regaining market share remains a top priority and while we still have work to do, we are excited by the favorable feedback we receive from those customers who have bought and experienced our new trucks," Clarke says, adding third quarter highlights included a 10 percent year-over-year increase in chargeouts for Class 6-8 trucks and buses in the U.S. and Canada, and the company ended the quarter with a 54 percent increase in order backlog year-over-year. "With additional offerings for medium-duty and severe service applications, we're very encouraged with our future prospects."
For the third quarter 2014, the North America Truck segment recorded a loss of $12 million, compared with a year-ago third quarter loss of $143 million. The year-over-year improvement was primarily driven by lower charges for adjustments related to pre-existing warranties and additional structural cost savings. Chargeouts for traditional markets were up 10 percent, reflecting a 24 percent increase of Class 8 heavy-duty trucks and a 6 percent increase in Class 6/7 medium-duty trucks, partially offset by an 18 percent decrease in Class 8 severe service trucks.
For the third quarter 2014, the North America Parts segment recorded a profit of $127 million, a sizable jump from a year-ago third quarter profit of $98 million. Parts revenues in the quarter improved by 4 percent due to improvements in commercial markets, partially offset by lower military sales, the company says. Profit improved by 30 percent year-over-year driven by stronger performance in commercial markets.