Using technology to plan and execute delivery routes is nothing new, but the way in which fleets are implementing this technology has changed. They used to add different components in a piecemeal fashion, starting with route planning software, for instance, and then later adding asset tracking, a proof-of-delivery application, electronic driver logs, and turn-by-turn navigation.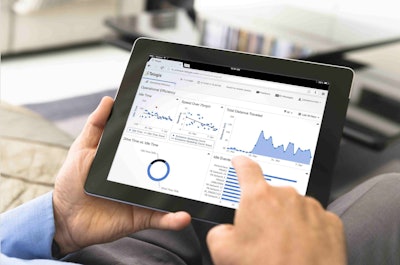 Then comes the hard part: getting these separate systems to work together in a cohesive, automated fashion. Today, fleets can hit the ground running by using cloud-based software systems that come pre-loaded with an array of features for optimizing transportation costs and customer service.
Telogis, for instance, has developed a "location intelligence platform" that has a number of integrated components in a software-as-a-service offering. These include a strategic and dynamic route planning system and mobile apps to log delivery drivers' Hours of Service (HOS) and other compliance requirements plus mobile forms, commercial navigation and telematics.
With this integrated platform, the planning and execution cycle is "fully encased," explains Kelly Frey, vice president of product marketing for Telogis. As an example of what is possible with the integration, Telogis can calculate a dynamic, real-time estimated time of arrival (ETA) for each scheduled delivery on a route.
This ETA engine, he says, uses information fed from Telogis Navigation and other mobile applications, and includes the current vehicle, road and traffic speeds as well as drivers' hours-of-service constraints. A continuously updated ETA, based on real-world conditions, is fed back into Telogis' route planning system to re-optimize the sequence of deliveries, if necessary, to improve cost and service.
"You need to optimize on the fly and be very dynamic," he says.
Telogis recently added a new feature called Appointment. This allows the end customer to select a desired appointment, online, from a list of pre-optimized delivery times. The options are calculated based on cost and other route constraints.
Another recent addition is Telogis Live. This tool allows fleets to share visibility of trucks with supply chain partners for a limited time period. A Telogis user would give a third party a time-limited password to view the location of their vehicles through a Telogis portal. Alternatively, a Telogis user could view the locations of a partner fleet's vehicles using their own portal. To do this, Telogis can take GPS feeds from any tracking system, Frey says.
This type of "cross fleet" visibility will become more prevalent, he says, as shippers and fleets must find new ways to utilize available capacity in their systems to lower delivery costs for e-commerce and omni-channel retail strategies to work.
Real-time ETAs from the cloud>>
Instant LTL rates for the spot market>>
In case you missed Part I of this series, click here.