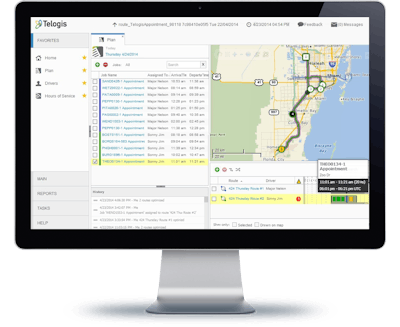 Telogis announced an extension to its cloud-based intelligence software platform called Telogis Appointment, the latest addition to its Telogis Route Planning Suite. The addition comes as consumers are expecting that product and service deliveries at their homes will be matched to their schedules, and a company's ability to make its supply and service chains more dynamic, the company says.
Telogis Appointment allows consumers to choose delivery windows that are most convenient for them while also being most cost effective for the deliverer. It also helps shipping companies reduce turn times by matching delivery times to customers' open times to receive goods, and pushing ETAs to the receiving parties via text or email – all in real time.
"Businesses that embrace a customer-centric service model and implement mobile and location intelligence technologies aimed at expediting, improving and personalizing the customer experience will ultimately grow market share and remain competitive," said Newth Morris, Telogis co-founder and president, Telogis Route and Navigation. "By providing a higher level of service to their own customers, Telogis' customers benefit from increased fuel savings, mobile worker productivity and profits."
When customers interact with online scheduling tools or speak with a customer service representative by phone, Telogis Appointment will provide multiple available time window appointments based on pre-determined criteria such as delivery cost, available resources, proximity of existing vehicles and resource capabilities of technicians or delivery specialists.
Telogis' integrated work order management, routing and scheduling programs provide customer service representatives with the optimal appointment times/windows that allow the customer to choose a time that works best for them. This dynamic back-office coordination takes into account factors such as vehicle location, onboard tools, skill sets, routing and schedule, and only presents appointment options that will be profitable.
Telogis Appointment also integrates with existing Customer Resource Management (CRM) or other customer service portals.
Telogis' platform approach for any mobile enterprise combines strategic and dynamic planning with mobile apps that log delivery drivers' Hours of Service (HOS) and other compliance requirements plus mobile forms, commercial navigation and telematics.
Now in version 6.0, the Telogis Route Planning Suite supports static, fixed-route and territory planning as well as dynamic routing, routing support specifically for hazmat vehicles and commercial trucks.