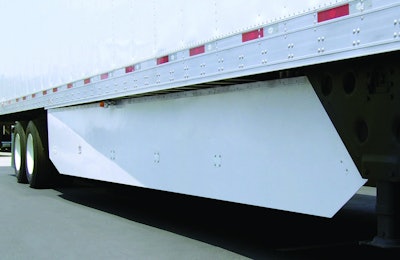 An exhaustive study of major fleets concluded fuel costs were reduced an annual $7,200 per truck through fuel-efficient products and practices.
The non-profit North American Council for Freight Efficiency researched use of 66 technologies and practices by CR England (No. 17 in the CCJ Top 250), Challenger Motor Freight (No. 79), Con-way Truckload (No. 5), Frito Lay, Paper Transport (No. 238), Ryder (No. 30), Schneider (No. 7), Werner (No. 10), Bison Transport (No. 68) and United Parcel Service (No. 1). Fifteen percent of the trucks in the study pulled refrigerated trailers.
In 2010, NACFE created a best practices sharing methodology to learn from companies early adoption of practices or technology regarding anti-idling, chassis, tires/wheels and tractor/trailer aerodynamics.
It concluded the average payback period was three years for technologies that provided the greatest savings. Participants averaged almost 6.8 mpg per gallon, an 8 percent hike from 2010.
The researchers created a business-as-usual prediction to compare participating fleets with a baseline company that only procured a few of the highest adopted technologies. They also considered the combined impact 2002, 2007 and 2010 engines on fuel economy and Selective Catalytic Reduction on mileage.
During 2003-2013, the average adoption rate of fuel-efficient products increased from 31 to 50 percent and average fuel economy performance improved .64 mpg. Last year's annual fuel savings per truck was $7,200, up from the 2011 report where the original eight companies studied reaped an average savings of $4,400.
The fastest adoption of products was trailer skirts, adopted by 70 percent of the companies studied. Synthetic transmission oil and synthetic transmission fluid, along with reduction of empty miles and limiting speed were used by 100 percent of participants.
Click here to see the full "2014 Fleet Fuel Efficiency Benchmark Study."