Most mobile fleet management platforms bundle electronic DVIR forms within a suite of applications that include electronic logs, messaging and tracking. As such, the DVIR process is part of the driver workflow. An electronic inspection is only an improvement over paper forms, however, if drivers actually get out of the cab to inspect the vehicle.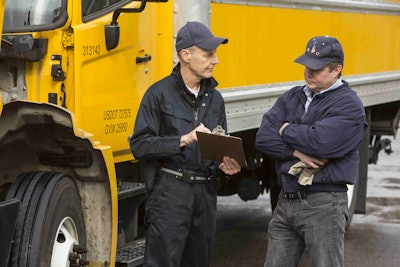 Zonar uses a rugged Android tablet as the display for its fleet management platform. Its 2020 tablet has an integrated wireless RFID reader that is used to identify tags placed in different zones around the vehicle.
Zonar's Electronic Vehicle Inspection Report (EVIR) uses these tags – roughly the size of a half-dollar – to verify that drivers actually inspect the vehicle's components. With simple touches and swipes, drivers use the 2020 application to select the condition of vehicle components at each zone. They can also attach pictures using the 2020's camera.
Maintenance personnel can review EVIR reports online and schedule repair work through Zonar's Web-based Ground Traffic Control (GTC) system. The reports can also be set up to directly to a fleet's maintenance software system to automate the repair workflow.
Thresholds can also be set up for certain defects. Critical issues on the EVIR can instantly trigger an e-mail alert to fleet management.
PeopleNet's touchscreen mobile devices – either the Blu or Tablet platforms – have an icon in the daily workflow menu that drivers use to initiate an inspection form. This form can also be set up to open automatically in the driver's workflow when starting the day and when logging out. Used in this manner, the form has to be completed before drivers can move onto the next screen of their workflow.
PeopleNet has developed integration with all of the major third party fleet maintenance systems to automate the repair scheduling process. Inspection forms with noted defects go directly to a repair queue in these maintenance systems.
Mechanics review items in the queue and initiate repair orders. Once repairs are complete, the maintenance software sends an acknowledgement to drivers via the PeopleNet in-cab device.
To see the latest hardware and software options for electronic vehicle inspections, click here