Some electronic DVIR applications are hardware agnostic, meaning the software is cloud-based and compatible with a variety of devices.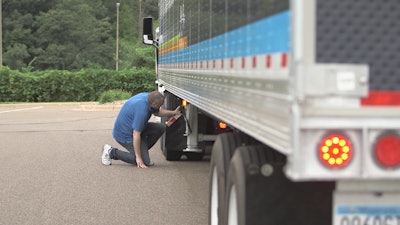 When running on a connected device like a smartphone, a DVIR can send inspection data to the office instantly while drivers are walking around the vehicle.
XRS has a DVIR process included in its all-mobile fleet management application. With XRS deployed on a driver's personal smartphone or company-owned mobile device, drivers can complete a checklist of inspection items that meet the 396.11 requirement.
If any defects are checked, XRS sends alerts to notify maintenance personnel of incoming vehicles with failed inspections. From the e-mail alert, maintenance personnel can click a link to login to the XRS Cloud software where they can view inspections and certify completed repairs.
Innovative Software Engineering (ISE) has a DVIR application that runs on Intermec and other Windows devices and will soon be releasing an Android version. Several fleet management platforms also use the ISE application. It is an option for Cadec's PowerVue. Southeastern Freight Lines deployed the software on the onboard platform it uses from PeopleNet.
To see the latest hardware and software options for electronic vehicle inspections, click here