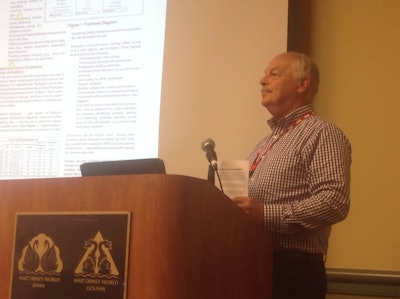 Television has told us you can save 15 percent on your car insurance in 15 minutes.
Fritz Marinko, vice president of special accounts for ATDynamics, says you can calculate the return on investment (ROI) on the aerodynamic devices in your fleet even faster.
Marinko, speaking at the Technology & Maintenance Council (TMC) of American Trucking Associations Fall Meeting in Orlando, Fla. Monday, unveiled a detailed spreadsheet nearly three years in the making that he says was designed to help fleets determine the true cost/benefit of an aerodynamic device in its fleet.
Marinko's calculator, which he says takes approximately 10 minutes to fill out, takes head-on aero-manufacturers' claims of fuel savings that are based on averages, wind-tunnel and other non-real world condition testing.
"Trying to average your speeds (across multiple duty cycles) just doesn't work," he says.
Marinko's objective is to educate fleets on importance of always testing equipment with the crosswinds they experience on the road, and provide equipment operators an interactive mathematical tool to evaluate potential ROI of an aero device.
In order to use TMC's Drive Cycle Calculator, fleets need to know average miles per year, per truck; average fuel economy per truck; cost of fuel per gallon; number of trucks you want to evaluate; number of trailers you want to evaluate; percentage of miles traveled at speeds ranging from under 40 mph to 70 mph; percentage the device saved at 65 mph; and estimated annual maintenance costs for the device.
"It it 100 percent true? No," he says, "but it's a darn good indication of ROI if you have to hang your hat on something."
Marinko sought input from task force attendees Monday morning to further enhance his calculator and said he was looking for upwards of 10 fleet volunteers to test it before moving forward in the balloting process and formalizing the calculator as a TMC Recommended Practice, and as a compliment to TMC Type II, Type III and Type IV testing.