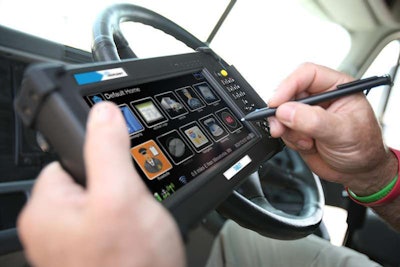 PeopleNet, a Trimble company and provider of fleet mobility technology, announced new integration features with TMW System's TotalMail product. The new features give PeopleNet and TMWSuite users improved access to information related to work flow stops and cycle times which will ultimately improve fleet efficiency and utilization, the companies say.
Available in TotalMail version 14.30+, the new automated workflow stop feature gives fleets the ability to associate more detailed descriptions (up to 10,000 characters) for each stop in the driver's Workflow on the PeopleNet enhanced display devices. Dispatchers can include further detail in their stop descriptions, such as a stop location's hours of operation, contact person, directions to the dock, reference numbers etc., providing a single location for drivers to see all information regarding a stop on their trip.
TMW Systems additionally announced enhancements to TotalMail version 15.10+ that include increased access to information about a driver's cycle time availability. This feature gives dispatchers and planners using TMWSuite's Planning worksheet the ability to not only view a driver's current available on-duty hours but also the hours that will be available on each succeeding day of the duty cycle.
"These two integrations within TotalMail are great examples of how TMW and PeopleNet work together to increase the information available to drivers and back office personnel and increase communication between both parties," said Kerri Tabor, PeopleNet director of integration services. "By delivering new ways for users to talk with one another, we can improve productivity and increase compliance with industry regulations."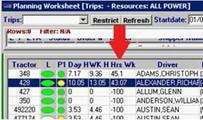 "With the vision of providing better visibility of a driver's available on-duty hours and better guidance to dispatch planning, we're eager to offer our joint customers new ways to streamline the communication of data that is critical to an organization's continued success," said TMW Executive Vice President Scott Vanselous.