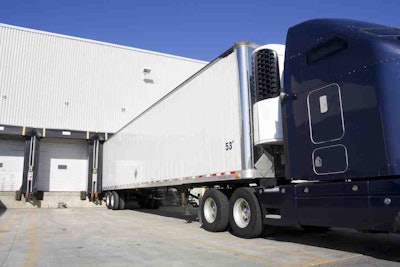 In a closing panel, moderator Mike Regan joked that the 2014 CSCMP Annual Global Conference could have been renamed simply: "Got capacity?"
Regan, chief of relationship development at TranzAct Technologies, then summed up the "three Ds" of capacity: "drivers, demand and 'darn' regulations."
Indeed, truck drivers were an important element in a number of formal and informal discussions between the attending shippers, 3PLs, academics and even a few trucking execs this week.
But the goal of the Regan session was to focus on the "real world," or on why there are no trucks to be had and what happens when your best laid transportation sourcing plans fall apart.
Bob Voltmann, president and CEO of the Transportation Intermediaries Association, offered a model of the capacity much like the three Ds, substituting "dollars for infrastructure" for demand.
He pointed out that poor roads and congestion will have an increasing impact on truck productivity, but he focused most of his frustration on coming regulations.
He called e-logs "a game changer."
"There's no more fudging hours-of-service," Voltmann told the supply chain managers, referring to a driver's willingness to extend his day to make sure a load is delivered.
Additionally, he cautioned shippers and brokers that there's a potential downside to a coming increase in the minimum amount of insurance a carrier must have.
"It may sound good on paper, but there's talk of raising it as high as $4 million," Voltmann said. "There's no insurance company that will write those policies. If it's anything more than a million and quarter, capacity will be reduced."
He also took aim at the driver coercion rule, still in the early phases of development.
"It will change the game from what you know to what you should have known," he said. "There's a catch-22: If the driver gets there and tells you he doesn't have enough hours to deliver the load, you're stuck. You, your freight and the driver are going to sit around playing cards.
"If you tell him to move it, you've coerced him. If you call the trucking company and ask for another driver, you've coerced him. It's stupid and we hope the agency realizes that."
Steve Robinson, vp of global logistics for Starbucks and who also has served in a similar executive position for Wal-Mart, explained that transportation is now "a constrained resource," and transportation managers will have to get the message across to the folks in the corner offices: Capacity can longer be taken for granted.
"The sky is falling," he said. "Capacity is not a resource you can just plug into anymore, and it flows like electricity. Be prepared to have a business-case discussion. And don't call it 'transportation cost increases' – call it 'risk mitigation.'"
Despite an hour's worth of discussion detailing the growing supply and demand imbalance – to say nothing of presentations over the previous two days – many shippers may not be heeding the warning.
When Regan asked how many shippers in the room would agree to a 10 percent rate increase if carriers committed the whole amount to driver pay (and would assure truck availability), only a few hands out of hundreds went up.
The punch line, of course, is that all those 3PLs and brokers in the room were thinking 'thank you' – the shippers will wind up paying them even more to make sure the goods get moved when trucks are hard to come by, as Regan pointed out.
But there is hope for carriers looking for those rate increases.
"In the last six months, I've had more conversations with presidents and CEOs about their supply chains than I've had in the past three years," Regan explained, and he recalled one of those conversations. "The executive said, 'this is no longer about what we're paying for transportation. If I can't keep customers, I don't have to worry about what I'm paying for freight.'"
Indeed, transportation has "earned the right to be at the table," as Robinson said. And I'll have more on that discussion from CSCMP.