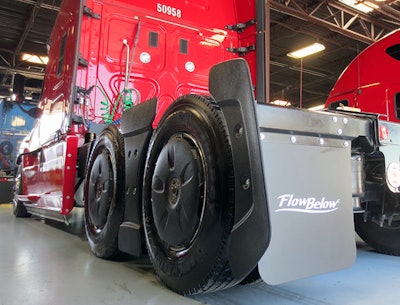 FlowBelow announced that Las Cruces, N.M.-based Mesilla Valley Transportation, one of the most fuel efficiency-focused fleets in the trucking industry, will outfit its entire fleet of 1,200 tractors with FlowBelow's Tractor Aerokits.
FlowBelow's Aerokits consist of its patented quick-release wheel covers and tandem fairings designed to fill the gaps around the tractor drive axles. According to FlowBelow, MVT's testing of the aerodynamic package yielded a 2.23 percent boost in fuel economy. The fleet currently has a 9-mpg fleet-wide fuel economy average and is looking to hit the 10-mpg mark.
"The more efficient we are, the more competitive we can be," said Royal Jones, MVT's CEO. "But getting to this point has not been easy. We are always skeptical of the numbers vendors give us, so after FlowBelow provided their test results we actually went back and did additional SAE fuel economy testing ourselves to verify the savings."
According to FlowBelow, its aerodynamic package will translate to more than $1 million in fuel savings annually. The company also projects sales of its Tractor Aerokits, which have been on the market for three years, will reach 18,000 to 20,000 units in calendar-year 2015.