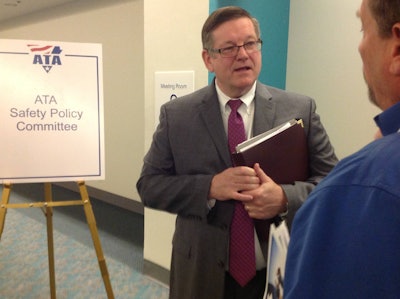 A major revision of the way the Federal Motor Carrier Safety Administration rates trucking companies has hit the "front office" for a final round of review by the agency's top leadership, FMCSA Chief Safety Officer Jack Van Steenburg told industry executives at the American Trucking Associations' Management Conference & Exhibition last week.
"It's very, very detailed," Van Steenburg said, referring to the changes to the safety fitness determination process, to be based on the Compliance Safety Accountability program. "There's a lot to it, and I want to make sure I do a very, very thorough read. These rules tend to get complicated over time, but it has to make sense to me."
The new rating system will feature an "absolute" carrier score derived from CSA, and will not use relative comparisons or groupings, he added.
Following his presentation to the ATA Safety Policy Committee, Van Steenburg told CCJ that by reaching his desk, the draft Notice of Proposed Rulemaking had reached the final stage of development within the agency: he, then the FMCSA deputy administrator and finally the administrator will review, revise and sign-off on the notice before passing it on to the Office of the Secretary of Transportation.
"It's pretty well cleaned up by the time it gets to us," he said. "But it is a significant rulemaking; there are going to be questions."
From OST, the NPRM heads to the White House, where the Office of Management and Budget may take as long as 90 days for a final review.
Nonetheless, Van Steenburg said he'd like to see the NPRM published in the 2015 Fiscal Year, meaning by next October.
He again emphasized the scoring system will not be relative. It will be based on roadside inspection data and traditional compliance reviews, though the agency is "redefining" some of the critical and acute violations that factor into the safety fitness determination.
"You're going to have known percentiles," Van Steenburg said. "You're going to know where you stand and it's not going to be a moving target."
Also in the coming year, FMCSA expects to publish an electronic logging mandate. Van Steenburg noted that he was limited in what he could say because of the active rulemaking, but the rule "is really, really an agency priority."
FMCSA would like to pass the ELD rule to OST by next spring, with a final rule to be published sometime in 2015.
"There's a lot to consider in electronic logging devices," he said. "We want to get it right, and get it right the first time."
FMCSA will also look into "alternative compliance," or a means of recognizing carriers for investing in safety improvements without having them mandated through regulations.
"I don't know where we're going to go with it," he said. "We may put something in the Federal Register and get recommendations: What benefit should you receive? For what technologies, what programs?"
Asked what FMCSA could do to ensure that shippers "have some skin in the game," Van Steenburg said the driver coercion rule under development at FMCSA aims to hold them "accountable."
"I know a lot of shippers don't like the coercion rule, but we feel it's the right thing to do and it's fair to the industry," he said.
But when asked about adding hair testing to driver drug and alcohol screens, Van Steenburg said simply that it's "not going to happen."
In other items for 2015, FMCSA plans:
to implement CSA "phase three," or roll out the "full suite" of interventions, and the agency will review the severity ratings and groupings;
research into last year's changes to the hours-of-service rule that will focus on safety, productivity and health; and
to develop a split-sleeper berth pilot project, with the topic to be discussed at the upcoming Motor Carrier Safety Advisory Committee meeting.