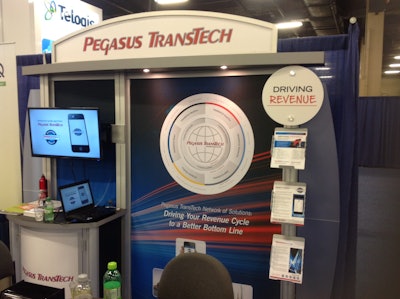 Pegasus TransTech announced a new document delivery and retrieval service that gives drivers the ability to print, fax or e-mail documents from its nationwide Transflo truck stop scanning network. The new service, Transflo On-Demand, allows carriers and brokers to expedite the delivery of critical paperwork, it says.
With Transflo On-Demand, carriers, brokers can transmit documents to drivers, and vice versa, using the Transflo Express kiosks at truck stop locations. Examples of documents that drivers could print, email or fax include border crossing documents, insurance or claims paperwork, permits, HR related documents, rate confirmation sheets, bill of lading documents for intermodal shipments, and any paperwork requiring physical signatures.
These documents can be stored in the cloud and retrieved by drivers at their convenience directly from a truck stop kiosk.
"Now, carriers, brokers and drivers can send or print critical documents with less out-of-route miles and a more cost-effective method than traditional faxing services," said Frank Adelman, president and CEO of Pegasus TransTech, adding that the Transflo On-Demand service is currently live at 10 locations, and over 400 locations will be added by the end of 2014.