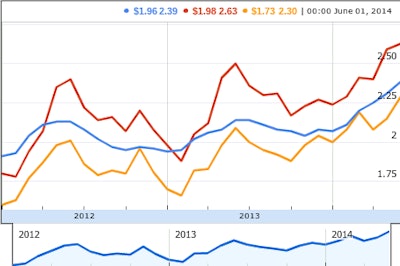 Per-mile rates on the spot market fell for the fourth straight month in October, mostly in line with seasonal trends, but they remained strong and much higher than Octobers in recent years, according to data released Nov. 3 by Internet Truckstop.
Rates in all three segments — flatbed, reefer and dry van — fell in October, but the continue to ride the coattails of big upswing from February to June, which led to record high rates for all three segments.
Since, all three have seen declines in every month since, save for an uptick in reefer rates in September.
The decline, however, is similar to those seen each year.
Rates generally jump in November and December, as holiday-related freight picks up.
Reefer led the rate declines with a 10-cent drop to $2.32 — 15 cents higher than October 2013.
Flatbed rates fell 7 cents to $2.25, 18 cents higher than last October.
Van rates fell 4 cents to $2.02 a mile, up 14 cents from the same month last year.