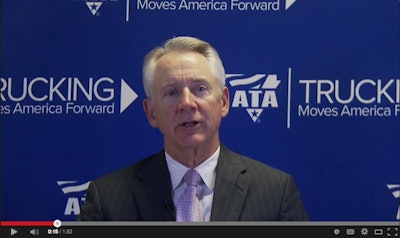 The American Trucking Associations today says its leaders extend a thanks to U.S. veterans, while also encouraging those returning from service to consider a career in the trucking industry.
"Serving in our nation's armed forces is one of the highest callings an American can have," said ATA President and CEO Bill Graves. "Today, we thank all of them for their sacrifices."
Graves also said the industry has in place mechanisms to help veterans smoothly transition to jobs as truck drivers.
"Fleets have found that veterans are good, dedicated employees who have demonstrated the skills necessary to safely drive large trucks," he said. "And thanks to recent changes that allow veterans with experience driving in the service to waive the skills test for a commercial driver's license and to take CDL tests where they are stationed, rather than in their home state, it is less complicated than ever before for veterans to get jobs in our industry."
Duane Long, ATA's chairman and chairman of Longistics in Raleigh, N.C., said there's more that government agencies can do to aid veterans transitioning into trucking.
"While veterans can use the GI Bill to pay for CDL school, other veterans educational grant programs from the Department of Education, Department of Labor or the VA are closed off to driving schools," he said. "We should open those grant programs up to make it easier for veterans who want to learn to drive a truck to qualify."