Considering the amount of fuel consumed by a fleet of commercial vehicles, even modest gains in fuel economy add up quickly to the bottom line. Despite the best efforts of truck manufacturers and aftermarket suppliers to optimize fuel economy, studies show that as much as 30 percent of mpg is still directly controlled by drivers.
Today's advanced trucks and engines generate an enormous amount of data from various electronic control modules and sensors. Mobile fleet management systems are widely used by commercial and private fleets to capture this data and create various reports and alerts on the performance of vehicles and drivers.
Traditionally, fleet managers reviewed this information before giving drivers feedback on what they did wrong, and could have done differently, to increase fuel efficiency. This approach is changing with the adoption of new applications that put drivers first in the line of visibility. Some of these technologies give drivers instant feedback, like a virtual driver coach, at the very moment it is needed to make a difference.
Below are some of the latest applications, and soon-to-be-released features, that are designed to improve fuel efficiency by interfacing directly with drivers. You can also see an abbreviated version by scrolling through a photo gallery here.
PedalCoach is an application that gives instantaneous feedback to drivers for the optimal amount of throttle input. The user interface is a digital gauge with a needle that represents the flow rate of fuel to the engine. The bottom third of the gauge has a green zone that represents the fueling target — the appropriate amount of fuel for the truck at any given moment.
The green zone turns to yellow in the middle and red along the top third. The objective is to keep the needle in the green. A meter on the app tracks every mile the driver succeeds doing this.
PedalCoach calculates the fueling target instantaneously from ECM data. Its algorithm is based on the laws of chemistry and physics and takes into account equipment specs, topography, temperature, weight and other factors.
PedalCoach is typically deployed on "smart" devices and mounted on the A-pillar for drivers to see as they scan their mirrors. Within a few seconds after completing a trip (every ignition on/off event), PedalCoach displays a score — the percent of time the driver was in the "green" zone.
The app also sends data to servers in the cloud. LinkeDrive, the company that develops PedalCoach, also offers an online management portal called DATA which fleet managers would use to view more in-depth fuel-efficiency information on drivers and assets.
The uniqueness of the PedalCoach system is that it doesn't give people data to act upon, says Jeff Baer, founder and chief executive officer of LinkeDrive.
"Any technology can do that," he says. Instead, PedalCoach uses a "human centric" approach to saving fuel with instant feedback that helps drivers train themselves to accelerate more gently and preserve momentum, he says.
There is also the real possibility that drivers may ignore the app. Experience has shown that drivers will have to be engaged by more than an app to sustain fuel savings, says Baer. PedalCoach is most effective when tied to a fuel incentive plan. LinkeDrive also helps fleets increase the driver engagement factor. The company changed its business model to be more than a technology provider; it also plays a support and consultative role with drivers to help them with fuel performance.
"We made driver engagement part of the model," he says.
PeopleNet will soon begin development work on a new in-cab driver scorecard. This new feature will be available for its fleet mobility platforms to give drivers real-time visibility to any violations of their companies' standards for speed, RPMs, idling, sudden deceleration and acceleration events.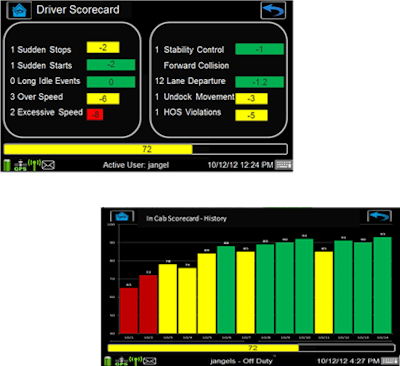 The scorecard can also incorporate violations caught by collision avoidance and lane departure systems, which also correlate with fuel-efficient driving. The scorecard will be configurable by fleet using PeopleNet's fleet management portal.
While in motion, drivers will be able to monitor their progress in the "safe mode" screen. A line on the screen will change from green to yellow and to red as violations occur during the measurement period, such as every 20 days.
The system can be set up to alert the office when a driver's score falls below a certain threshold. The reason for developing a new in-cab scorecard is to get drivers and fleet managers on the same page, says Rick Ochsendorf, executive vice president: "There is no reason for conflict if everyone has the same data."
Zonar recently developed ZFuel, an online application that analyzes and visualizes complex data to help fleet operators and drivers improve fuel efficiency. A fuel efficiency score shows drivers how they performed under the circumstances. It also calculates the amount of money drivers could have saved each trip (each ignition on/off event) if had they done everything right.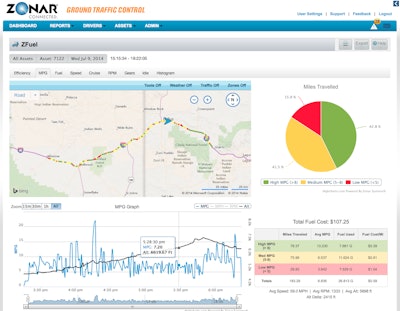 Fleet managers can view a ranked list of drivers according to their fuel efficiency scores and fuel losses, and then drill down to see how individual drivers performed on particular routes. The performance of one driver could be compared against other drivers who drove the same route.
An interactive map display helps to identify problem areas. Clicking on a red segment of a route, for example, zooms in on the area and shows a chart of all the fuel variables for that period — speed, temperature, incline, use of cruise control, etc.
ZFuel is an option for Zonar's fleet management system which comes with an industrial-grade Android tablet display called 2020; an onboard computer, V3; and an online management portal, Ground Traffic Control.
CarrierWeb plans to develop new driver scoring and coaching applications for its mobile fleet management system, CarrierMate, starting next year.
As a standard feature for CarrierMate, drivers can view their individual performance statistics, by trip, using the in-cab Mobile Data Terminal (MDT) when the vehicle is not in motion. Fleets can also give drivers a unique login to CarrierMate's online management portal to view individual performance metrics.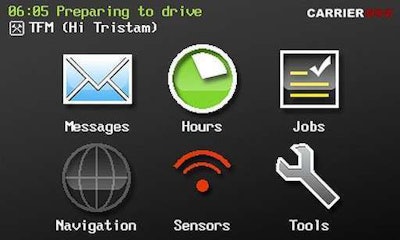 This portal can be set up to show drivers, when they login, what ranges or goals the fleet has set for fuel economy and its various components such as idle time, speed, etc. Drivers can track their performance against these goals, says Norman Thomas, CarrierWeb's vice president of commercial operations.
Starting next year, CarrierWeb plans to develop a graphical user interface for MDT that gives drivers visibility of how their performance measures up against peer groups. If the fleet is averaging 6.8 mpg, for instance, the driver will see where they rank within the lower, middle or upper tier.
CarrierWeb is also working on developing training tools that will show drivers what they need to do to improve to reach the top tier in terms of idle time reduction, better shifting techniques and other areas. Finally, it is also working to create more real-time alerting tools that will give drivers an advance warning when the system detects a problem, like a degradation in fuel economy, before the alerts escalate to the fleet management level, he says.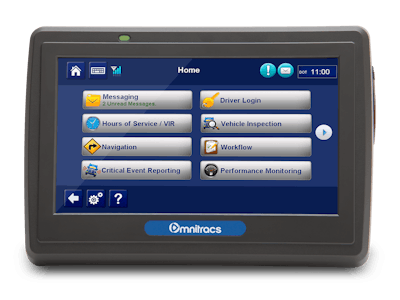 Omnitracs added MPG performance information on the its Mobile Computing Platform 110 (MCP110) and 200 (MCP200) user interface earlier this year. With this enhancement to the MCP user interface, MPG performance feedback is delivered directly to the driver via the in-cab unit
FuelOpps is an application designed to provide feedback to drivers regarding their fuel efficient driving techniques based on the type of equipment they use. The application captures driver performance information from fleets' existing telematics platforms.
Con-way Truckload, a 2,600-truck carrier based in Joplin, Mo., runs a mixed fleet of equipment with a variety of manufacturers and specifications that include five truck models and seven engine types. Con-way piloted a variety of vendors to improve fuel economy before deciding to implement FuelOpps. One of the reasons was the fast roll out and minimal equipment maintenance of the program.
On Mondays, FuelOpps automatically sends Con-way drivers a message of skill strategies to attain the weekly goals. Midweek, their progress on the assigned skill is evaluated and feedback messaged. A summary will be messaged at the end of each week.
Drivers can also access the FuelOpps database online. When they login, a screen shows drivers how they rank within their peer group and their overall FuelOpps rating, among other metrics. By scoring in the 55th percentile or higher, drivers earn points for every mile they drove that day. No points are ever deducted.
"Instead of coaching on just the MPG, we have a variety of other topics to discuss for incremental continuous improvement," said John Jameson, senior manager of fleet operations. "We have noticed improvements in our fuel economy, influenced in particular by increased use of progressive shifting, as well driving speed and time in top gear."
Con-way Truckload drivers can redeem their FuelOpps points from an online gift catalog.
"This has been well-accepted by the drivers and was a key component in our roll out program to reinforce the benefits to our operations," Jameson said of the incentive program.
Cadec has designed its PowerVue fleet management platform to proactively coach drivers towards performance benchmarks. Managers can set parameters for factors such as speed, RPM and idling time, and PowerVue can alert drivers on screen and audibly. For instance, it gives an "Idle Warning" before issuing a violation for management follow up.
PowerVue easily integrates with just about any third-party product, enabling fleets to make the on-board computer the one conduit through which all data is conveyed, says Eric Witty, vice president of product management.
SmartDrive offers a video-based driver risk management system that has both a safety and a fuel-saving application that drivers can use to monitor their performance.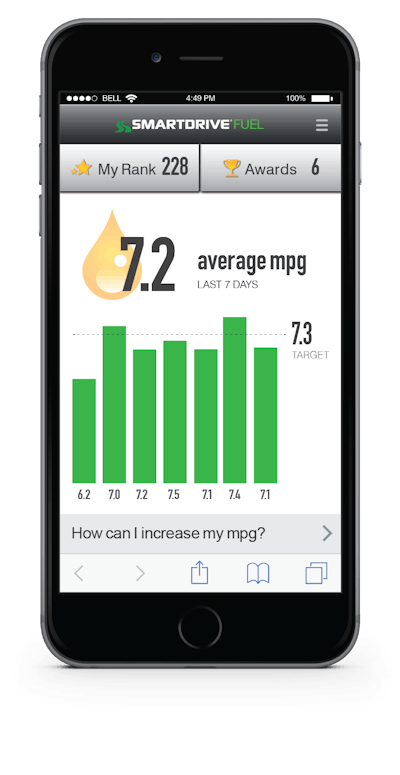 Fleets typically start out by implementing the SmartDrive safety program which measures 80 different driving skills. After fleets have seen results and operationalized the safety program they tend to implement the fuel efficiency application, says Jason Palmer, president of SmartDrive.
The SmartDrive Fuel app shows drivers a score that is a measure of how their fuel-saving behaviors compare to other drivers and to the target mpg for their vehicle. The target mpg is based on the individual route characteristics such as the mix of freeway versus city driving, he says, and individual maneuvers.
SmartDrive also captures fuel-inefficient events on video that fleet managers can later review with drivers to improve certain behaviors such as shifting techniques. The video is displayed on a dashboard that contains a number of digital gauges that give additional context such as RPMs, speed, etc.
"That is much more impactful than showing a telematics report," he says.