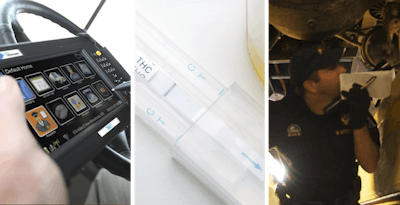 A Final Rule mandating the use of electronic logging devices by drivers and fleets is expected to be published Sept. 30, 2015, according to a recent Department of Transportation report, meaning enforcement of the mandate would begin Sept. 30, 2017.
That publication date is a projection, included in the DOT's monthly regulatory update.
The report also says a projected rule to mandate the use of speed limiters will be sent from the DOT to the White Houses' Office of Management and Budget next month, in line for a March 16 publication date.
That projected rule's action dates, however, have been pushed back several times this year already.
Still projected for publication this month is an Advanced Notice of Proposed Rulemaking regarding the minimum amount of liability insurance that motor carriers must have. The ANPRM will likely be simply a questionnaire for carriers that will be used as a data gathering tool for the agency and not a rule intended to raise the current minimum.
The agency still would have to produce a Notice of Proposed Rulemaking and accept public comment before crafting a Final Rule.
The DOT also projects in its report that FMCSA's long-awaited Safety Fitness Determination rule will be published in April as a NPRM. The rule, once final, will allow the agency to use the data at its disposal to create absolute scores for carriers, which would be used to target them for intervention.
The DOT projects a publication date of March 24. The rule will be sent to the OMB Dec. 23, according to the projection, and clear the OMB March 24.
Other rules in the DOT update include the CDL Drug and Alcohol Clearinghouse rule, scheduled to be published as a Final Rule Oct. 30, 2015, and the rule prohibiting coercion of drivers by carriers and brokers, which is scheduled to be published as a final rule Sept. 10, 2015.