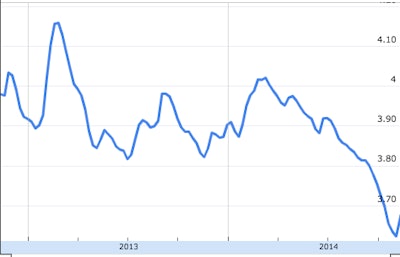 The national average price for a gallon of on-highway diesel fuel fell 1.6 cents in the week ended Nov. 17 to $3.661, according to the Department of Energy's weekly report.
The drop comes after a 5.4-cent rise in the week prior, which snapped an 18-week streak without a price increase.
The week's drop puts the average price 16.1 cents below the same week last year.
All regions in the U.S. saw a price drop, too, except for the West Coast less California region, which had an eight-tenths of a cent decline.
California led all drops with a 4.4-cent decline, followed by the Rocky Mountain region's 2.9-cent drop and the Lower Atlantic's 2.8-cent drop.
The Lower Atlantic also had the country's cheapest diesel, $3.469, followed by the Gulf Coast's $3.542 and the Central Atlantic's $3.612.
California had the U.S.' most expensive diesel, $3.979, followed by the Midwest's $3.786 and the Rocky Mountain's $3.767.