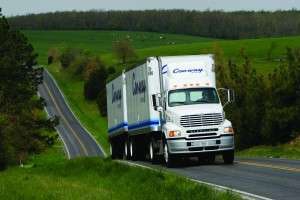 The Teamsters announced last week that a group of 74 drivers and dockworkers at Con-way Freight's Miami Lakes, Fla., facility voted to join the union, joining Con-way workers at terminals in Los Angeles, Calif., and Laredo, Texas.
The Teamsters set its sites earlier this year on organizing workers and drivers at Con-way (No. 5 in the CCJ Top 250) and at Fed-Ex Freight (No. 2 in the CCJ Top 250).
It's had limited success at both, however. Con-way's Miami facility was the third to vote in favor of Teamsters affiliation, while three Con-way hubs have voted against Teamsters affiliation.
The union also withdrew a vote in November at Con-way's Irvine, Calif. location.
The Teamsters last week withdrew a vote at a FedEx facility in Pennsylvania, the fifth time its withdrawn a unionization vote at the company — a sign, says FedEx, that it knew it would not win the vote.
So far, workers at three FedEx facilities have voted to join the union, while three others have voted against it.