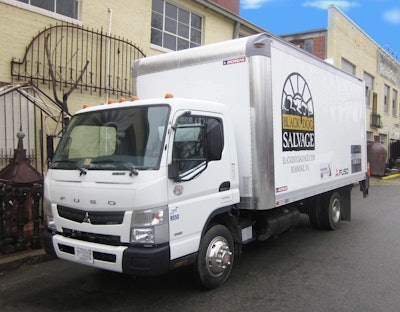 Working through its local dealer, Highway Motors, Inc., Mitsubishi Fuso Truck of America (MFTA) leased a Canter FE160 cabover with dry van body to Black Dog Salvage, Inc., Roanoke, VA, for use in its architectural salvage business. As it turns out, the crew of Black Dog Salvage also stars in a TV series called Salvage Dawgs, that records some of their many unique salvage projects.
Black Dog Salvage's Canter FE160 work truck made its first appearance as part of episode 2, season 3, during which hosts Mike Whiteside and Robert Kulp lead their crew in dismantling and salvaging floors, doors and a complete staircase from the Old Stagecoach Inn, an historical building near Abingdon, VA, that had been damaged by a tornado. New episodes of Salvage Dawgs continue to air on the DIY Network on Sunday nights at 10:00 p.m. EST/9:00 CST/8:00 MST/7:00 CST. MFTA hopes to see its truck in future episodes, as Black Dog Salvage continues its reclamation work.
Josh Tregear, MFTA's manager of marketing communications, notes, "We're very pleased that the team at Black Dog Salvage has chosen a FUSO truck to help fulfill their truck transport needs. They're a great group to work with, and they're dedicated to saving historically interesting and valuable architectural treasures that would otherwise fall victim to demolition. We look forward to a long relationship."
According to Mike Whiteside, co-owner of Black Dog Salvage, "The FUSO is a great truck for our needs. It's done everything we've asked of it, and it's economical and easy to operate."
In addition to the Sunday night airing of new episodes, Salvage Dawgs episodes repeat at other times during the week; check local DIY Network listings for a specific schedule.
FUSO Canter work trucks have been designed to provide lower cost-of-ownership through superior fuel economy, higher payload capacity and longer service intervals than competitive trucks—which makes them ideal for salvage operations like those of Black Dog Salvage. And the crew at Black Dog Salvage continues to use its Canter FE160 in its daily salvage operations — which means the FUSO Canter might pop up again at any time to continue its TV career.