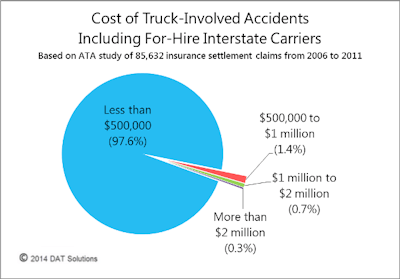 Is the Federal Motor Carrier Safety Administration's work to raise the minimum amount of liability insurance required for carriers warranted?
DAT Solutions' Don Thornton says no, and in a recent blog post published on DAT's site last week, he gives three key reasons.
The first, he writes, is that the data on insurance claims for crashes involving trucks shows that less than 3 percent of claims exceed $500,000, as the graph to the right notes. And just one percent exceed a million. The current minimum is $750,000 — encompassing 99 percent of claims, according to data from ATA.
Second, the trucking industry already faces a capacity crunch and struggles to keep up with the needs of shippers, Thornton writes, and increasing liability minimums would "add another check on capacity growth," he notes.
Lastly, the increase would hit smaller carriers and owner-operators much harder than larger fleets and could potentially even force many carriers out of business.
Click here to read Thorton's full blog piece.
FMCSA published last month an Advanced Notice of Proposed Rulemaking, in which it seeks input from carriers on 26 questions, answers for which it says will be used to determine how it proceeds with the rulemaking to raise the minimum liability insurance. Click here to read CCJ's coverage of those questions and how carriers can give input.