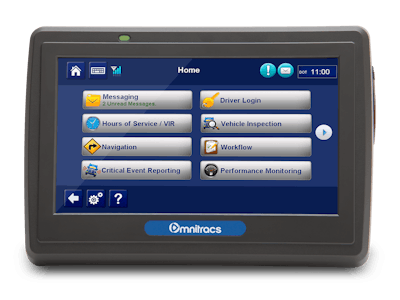 Electronic logging devices (ELDs) are set to become standard for all 3.4 million commercial drivers who are required by law to keep a record of duty status.
By Sept. 30, the Federal Motor Carrier Safety Administration plans to issue the final version of its long-awaited rule to mandate the use of ELDs, although by the end of the year may be a more realistic timeline.
The agency published the "original" mandate (395.16) in 2010 only to have it vacated by a federal court. The court ruled on the basis that ELDs, called electronic onboard recorders (EOBRs) at the time, could be used by fleet managers to micromanage or "harass" drivers.
The agency addressed this and other issues when it proposed the new ELD rule in March, 2014.
Omnitracs, a provider of fleet management systems to transportation and logistics companies, announced that one of the largest household goods movers, Atlas Van Lines, has selected and deployed its Mobile Computing Platform 50 (MCP50) and suite of applications to improve compliance in preparation for the expected ELD regulation.
Atlas had previously adopted the legacy OmniTRACS mobile information system and Trailer Tracks to optimize driver and asset management. Atlas Van Lines chose Omnitracs again to upgrade its operations and eliminate the use of paper log books across its fleet.
With Omnitracs' Hours of Service (HOS) application, Atlas Van Lines can track drivers' hours in near real-time. The application also allows drivers to switch between multiple operating authorities at the state and international level, as when crossing the United States and Canadian border. This feature was among the critical factors contributing to the company selecting Omnitracs over other ELD providers.
"Omnitracs MCP50 is the right mobile solution to fit Atlas Van Lines' unique needs based on our varied services across the country," said Jeff Schimmel, vice president of transportation services at Atlas Van Lines. "It's extremely important that our drivers deliver cargo safely and efficiently within the scope of the new ELD mandates, and the MCP50 — coupled with the HOS application — will help us achieve these goals while managing our compliance efforts much more easily."
On Oct. 17, Omnitracs updated the 34-hour restart provision in its MCP product line. This came the day after President Obama signed an appropriations bill that halted enforcement of the "new" 34-hour restart period enacted in July 2013, reverting back to the "old" restart, prior to July 2013, when drivers could refresh their hours more than once per week using a 34-hour break that did not have to include two consecutive 1 a.m. to 5 a.m. periods.