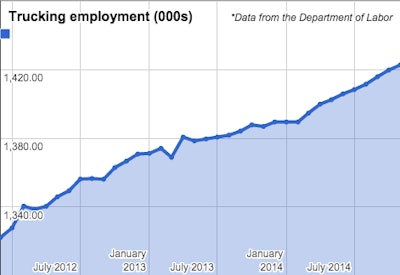 The for-hire trucking industry added 7,300 jobs in December on a seasonally adjusted basis, according to the Department of Labor's monthly employment report, released Jan. 9.
The DOL did, however, downwardly revise November's preliminary gain of 3,000 to 1,900.
The U.S. as a whole in December added 252,000 nonfarm jobs, slightly exceeding analysts' expectation of 240,000. The country's unemployment rate also fell to 5.6 percent. Job growth averaged 246,000 nonfarm jobs a month in 2014, the DOL reports, up from 2013's average of 193,000.
For-hire trucking employment totals 1.429 million on a seasonally adjusted basis — up 42,100 jobs (3 percent) over December 2013's 1.3869 million. It's also up 194,800 (15.8 percent) from March 2010's bottom in the most recent recession.
However, it's still down 24,400 jobs from January 2007's peak.
Total transportation and warehousing employment in the month grew by 3,100 jobs to 4.6859 million. The construction industry added 48,000 jobs, and manufacturing added 17,000 jobs.
Government jobs grew by 12,000, with nearly all of the gains coming at state and local levels.