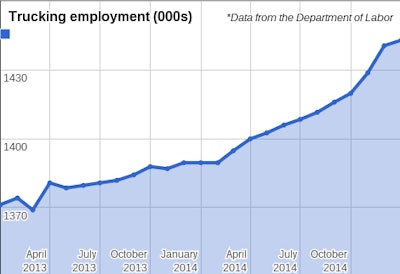 The for-hire trucking industry added 2,400 jobs in January on a seasonally adjusted basis, according to the Department of Labor's monthly report, released Feb. 6.
It also upwardly revised December's job gains to 11,900 — up a few thousand from the 7,300 reported in the DOL's preliminary report released last month.
The U.S. economy as a whole added 257,000 non-farm jobs in January, the DOL reports, though the unemployment rate ticked up one tenth of a percent to 5.7 percent.
For-hire trucking employment now totals 1.443 million on a seasonally adjusted basis — up 3.5 percent from January 2014's 1.3947 million. It's also up 16.9 percent from March 2010's bottom from the most recent recession.
However, it's still down slightly — 10,400 — from January 2007's peak.
Total transportation and warehousing employment in January fell by 8,600 jobs. Construction added 39,000 jobs, however, and manufacturing added 22,000 jobs. Leisure and hospitality added 37,000 jobs, and financial activities added 26,000.