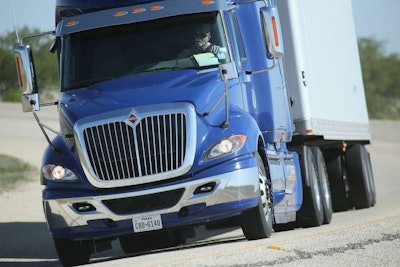 Truck tires have undergone tremendous changes in the past decade, and the driving force behind many of their new features and capabilities is the U.S. Environmental Protection Agency's SmartWay Tire Program. SmartWay's overall philosophy is to increase energy efficiency while reducing greenhouse gases and air pollution significantly.
"SmartWay verification tells a fleet manager that the tire is environmentally friendly and has a low rolling resistance," says Rick Phillips, Yokohama Tire's senior director of commercial tire and OTR sales. "Tires that are SmartWay-verified run cooler, which cuts fuel consumption, which in turn cuts costs and benefits the environment."
If a tire is on SmartWay's list, it indicates to a fleet that the tire was verified to meet or exceed SmartWay's rolling resistance coefficient maximum limits. "This means the tire is considered to be a low-rolling-resistance tire and will generally help reduce a tractor-trailer's fuel consumption by at least 3 percent compared to non-SmartWay-certified tires," says Brian Buckham, Goodyear's general manager of commercial product marketing.
Qualifying OEM partners for all SmartWay-verified products meet or exceed rigorous environmental and fuel efficiency performance criteria. The largest contributing factor for tires to provide fuel savings is to engineer a product that demonstrates a coefficient of rolling resistance that can achieve target values for the axle positions indicated.
Factors impacting a tire's rolling resistance include tread compounding, tread pattern design and casing structure. "In developing tires for SmartWay verification, manufacturers focus particular attention on the tread and belt package areas, as more than 50 percent of the rolling resistance of a tire originates there," says Patrick Gunn, Giti Tire USA's director of commercial tire sales and marketing.
When applied specifically to commercial truck tires, SmartWay certifies products that provide a reduction in emissions and an estimated fuel savings of 3 percent or greater relative to the best-selling new tires for line-haul trucks when used on all five axles on long-haul Class 8 trucks.
Different tires are specified for different commercial applications, so it pays to shop around. Cooper Tires offers a full range of Roadmaster tires designed to meet the SmartWay program's low-rolling-resistance criteria, all helping to improve fuel economy. The product lineup includes long-haul, regional, mixed service and pickup-and-delivery tires, all built for added retreadability, treadwear and traction specific to their applications.
In addition to application, tire position also plays a critical role. "On a tractor-trailer combination, the steer axle position tires contribute 15 to 20 percent to fuel economy," Gunn says. "Dive axle position tires contribute between 30 to 40 percent, while trailer-axle position tires contribute 40 to 50 percent to the vehicle's overall fuel economy."
Because trailer position tires have the largest impact on fuel economy and represent the most wheel positions for the average North American fleet, selecting the best-qualified trailer tires will have a larger impact on fuel consumption than any other wheel position category, Gunn says.
"The first priority for a fleet interested in saving a significant amount of money is to start moving into SmartWay-verified trailer tires and continuing with steers and drives," he says. "But fleets will do well to remember that while fuel economy has a greater impact on the bottom line of high-speed long-haul operations, it also plays a significant role in regional and high-load on-off operations, where SmartWay philosophy and criteria can be applied as well."