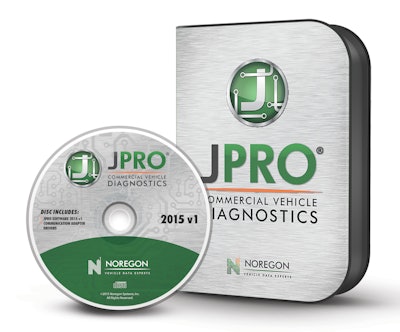 Click here to see all of CCJ's coverage of news from TMC.
Noregon Systems has announced the release of JPRO Commercial Vehicle Diagnostics 2015 v1.
Announced Sunday at the Technology & Maintenance Council (TMC) Annual Meeting in Nashville, Noregon says JPRO's newest version is the company's best yet. The system allows users to read and identify data from all areas of today's complex heavy-duty vehicles, says Greg Reimmuth, senior vice president of sales and marketing for Noregon.
Noregon says its JPRO Commercial Vehicle Diagnostics 2015 v1 includes expanded coverage of model years and diagnostic data for Freightliner and Freightliner Cascadia body and chassis controllers, Detroit and Cummins engines and Ford, GM and Sprinter vehicles.
The new JPRO also has a new demo mode in Vehicle History enables users to explore JPRO features quickly and easily without needing access to vehicles.Reimmuth says this demo gives users a quick resource to showcase how the system works and what to look for when opening a log file in the software.
"At its core, the release of JPRO 2015 v1 focuses on the fact that technicians need to have the very latest component and model years of coverage," says Reimmuth. "That is why we are committed to consistently updating JPRO so it continues to lead the industry in total vehicle diagnostics. JPRO users, from independent repair garages to the largest dealer or fleet maintenance facilities, rely on JPRO to diagnose help keep trucks on the road. Every truck. Every time."
The updated features are immediately available on new copies of 2015 v1. Those with current JPRO licenses with active support agreements can download the update directly from their website.
Noregon also announces it has improved its Next Step tool, featuring Mitchell 1 Repair Connect information. Reimmuth says the improvements focus on school buses, an area the company has wanted to enhance in coming years.