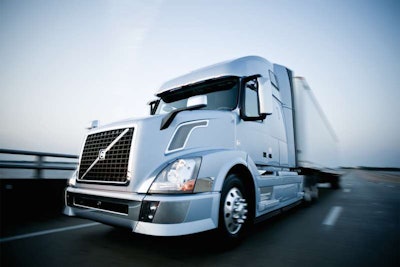 A Pennsylvania-based carrier filed a lawsuit last month against Volvo Trucks over alleged breach of warranty after one of the carrier's year-model 2014 compressed natural gas-powered tractors caught fire on Interstate 81 in January 2015.
Volvo has denied the carrier's claims, saying it worked with the carrier, Kane is Able, to ensure its vehicles were safe to operate and testing of the carrier's CNG tractors showed the claims are "without merit."
Kane, a Scranton-based company that operates a truck fleet and several national distribution centers, says it bought seven CNG-powered Volvo tractors. One caught fire after being run in "the course of an ordinary customer run," it says, when the truck had just 3,000 miles. Volvo did not replace the vehicle, the damaged trailer or cargo, the fleet says, thereby breaching its warranty obligations, the carrier argues in its suit. Court records show the tractor was a Volvo VNL64T300, powered by a Cummins Westport ISX12G.
Volvo, in a response to CCJ about the suit, said it provided Kane rental tractors while it investigated the tractors Kane bought. The investigation determined no "defect in the design, materials or manufacturing in any of the components installed by Volvo," the truck maker says, adding it "found no support for the cause of the fire suggested by Kane."
Moreover, Volvo told CCJ it did not manufacture the engine or the fuel tanks, nor did it install the tanks.
"We worked closely with our supplier partners to thoroughly examine the vehicles Kane decided to park – this investigation convinced us that the vehicles should be returned to service."
Kane has also filed suit against Cummins Westport, who manufactured the truck's engine. CCJ's request for comment on the suit by Cummins Westport was not returned.
Volvo also said in its response to the suit that, despite what Kane claims about a Volvo vehicle recall, the February 2014 recall on certain natural gas engines was issued by Cummins Westport. The engines powering Kane is Able's tractors, however, were not part of the recall.
"[The engines], in fact, [had] been manufactured with the corrective measures implemented by Cummins as a result of the recall," Volvo said in its statement on the suit.