Trucking-specific economic indicators from the most recent week show trucking conditions to be 'modestly positive,' FTR says, while freight volume and raters on the spot market both saw upswings in March.
[gttable cols=""]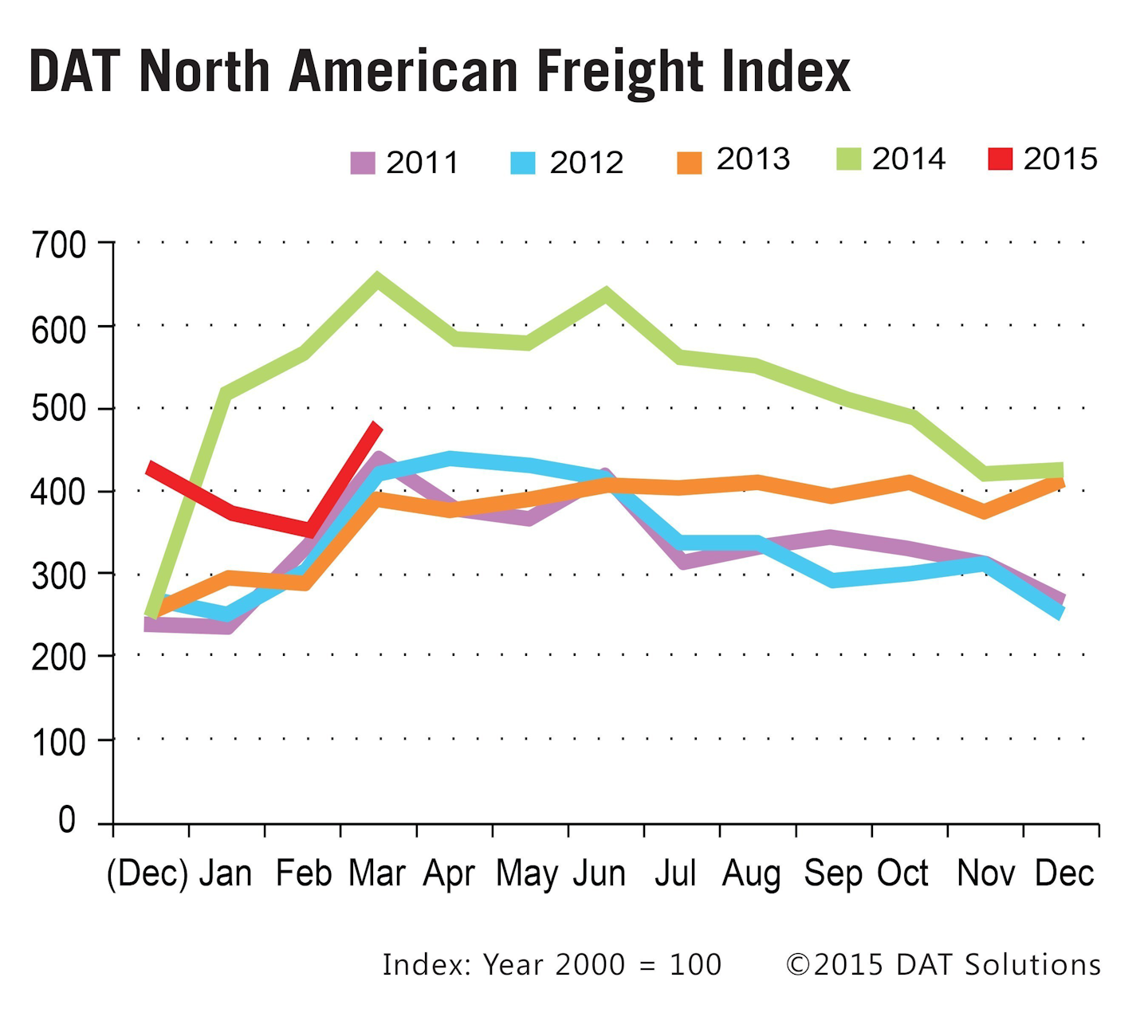 'Spring surge begins:' For the 20th straight month, truckload rates on the spot market saw a year-over-year increase, according to DAT Solution's North American Freight Index for March 2015.
Freight volume on the spot market rose 34 percent from February, which DAT calls "a spring surge…typical for the season." Freight availability compared to last March, however, fell 28 percent. DAT attributes the drop to a prolonged 2014 winter that caused a pent-up surge of freight last March.
Though freight availability dropped, spot market rates this March ticked up in all three major segments. Van rose 2.5 percent, flatbed rose 6.9 percent and reefer climbed 6.4 percent.
Rates were also up in all three segments compared to February 2015.[/gttable]
[gttable cols=""]
Trucking conditions OK: February saw a small decline from January in FTR's monthly Trucking Conditions Index, a measure of market conditions for trucking companies. The suspension of some hours-of-service regulations and fluctuating diesel prices attributed to the softening in capacity utilization and subsequent index's drop, FTR says.
The research firm, however, forecasts conditions for carriers to rise throughout the year and potentially hit a double-digit positive reading by year's end.
"While we still expect all-in per mile rates to be fairly flat for most of 2015, base rates for trucking — and specifically contract rates — are still showing solid year-over-year gains," says FTR's Jonathan Starks. "Shippers are seeing two items that cause them to question the continued increases: fuel costs and spot market activity. Fuel costs are down 40 percent, and since fuel is about a quarter of truckings costs, it is a big deal. However, the decade-long gain in acceptance of fuel surcharges has made most of that impact a direct pass through to the shipper."[/gttable]