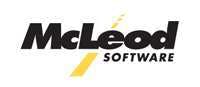 McLeod Software has released the latest version of its LoadMaster, PowerBroker, and LoadMaster LTL products. The new 15.1 release adds wide variety of new capabilities and functions, the company says.
Some of the highlights include:
A new "master order" feature for carriers and logistics companies to better manage intermodal shipments with multiple containers, deliveries, dray moves, and possibly several rail moves.
Another way for LoadMaster and PowerBroker users to communicate load information to drivers. Messages can be sent directly via SMS text or email, and be associated with an order or movement.
LoadMaster LTL Cross Dock Manager with a more robust trip details display. Tendered dates has been added to help in the audit of age for each shipment during outbound routing.
A new Key Performance Indicators dashboard in LoadMaster LTL that displays real-time metrics such as order totals, quotes entered, pickups entered, and bills of lading entered as the day progresses.
McLeod's Carrier-Broker Exchange has also been enhanced and rebranded as the McLeod Market Insight Module in the new release. The Market Insight module brings together rate information for truckload and brokered truckload shipments in hundreds of markets across North America, all compiled from the order rate history for actual shipments made by hundreds of transportation companies who are McLeod Software customers.
This new source or rate data gives McLeod customers insight about the actual rates similar companies are getting for truckload freight in any given lane in the most recent previous time periods of 1, 7, or 28 days.