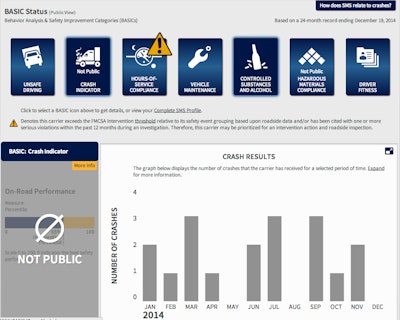 The Transportation Intermediaries Association has become the latest organization to call on the DOT to remove from public view the carrier percentile rankings in the Compliance, Safety, Accountability trucking regulatory program, saying there are "serious concerns" about the scores' methodology and correlation to crash risk.
TIA, a trade and lobbying group for brokers and freight forwarders, announced its change in policy this week, joining a growing list of industry groups who officially support removal of the scores until FMCSA can work out the program's kinks.
The non-partisan government watchdog Government Accountability Office also wants FMCSA to remove the scores from public view. It issued a report last year detailing the program's faults, saying FMCSA's data well is too limited and its scores are an unreliable means by which to judge carriers. The program is particularly unfair for small carriers and owner-operators, the GAO said, due to FMCSA's lack of quality data.
The TIA earlier this year successfully had a bill introduced in the House that aimed to limit CSA's role in hiring of carriers by brokers and shippers.
But the group's board of directors this week voted to officially change its position on CSA, now hoping for removal rather than simply relegating its role as an intervention tool for enforcers.
The continued delay by FMCSA in producing a Safety Fitness Determination rule also played a role in the TIA's change of policy position, the group said.
Nearly 20 other groups who have officially asked FMCSA to remove the scores from public view, including:
American Trucking Associations
Owner-Operator Independent Drivers Association
Commercial Vehicle Safety Alliance
Alliance for Safe, Efficient and Competitive Truck Transportation
National Association of Small Trucking Companies
Truckload Carriers Association
Several bills have also been introduced in Congress that would, if passed, require FMCSA to remove the scores until further work is done to shore up the program.