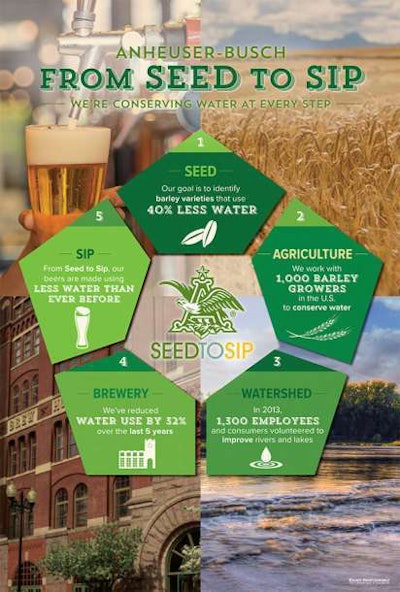 Anheuser-Busch's Houston, Texas fleet was recognized as the 2015 Green Fleet of the Year at the ACT Expo in Dallas Wednesday.
The company brews nearly half the beer sold in the U.S. annually and distributes it using 570 tractors and 2,400 trailers moving more than 250,000 loads per year.
Last year, Anheuser-Busch converted its Houston fleet of 66 trucks to natural gas and expects to save more than 2,000 tons of carbon through this effort. Anheuser-Busch estimates each of the Houston-based tractors will drive 140,000 miles per year delivering beer to the company's wholesalers.
Deployment of the Freightliner Cascadia tractors spec'd with the Cummins Westport ISX12 G 11.9 liter CNG engine is part of AB's environmental "Seed-to-Sip" initiative, an efficiency campaign with a goal of reducing carbon emissions from its logistics, warehousing and transportation operations by 15 percent by the end of 2017.
Working with transportation partner Ryder, the 12-liter lighter-weight engines are expected to emit 23 percent less greenhouse gases (compared to diesel), which is the equivalent of taking approximately 420 passenger vehicles off the road, Anheuser-Busch says. J.B. Hunt manages the Houston fleet.