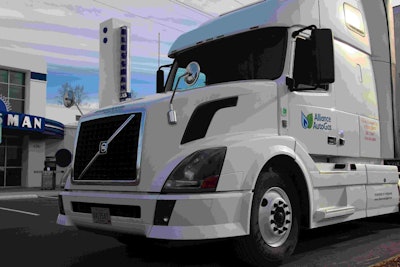 Alliance AutoGas unveiled a Diesel Displacement System for the Volvo D13/Mack MP8 at the ACT Expo in Dallas Wednesday.
Achieving a first-ever EPA compliance, Alliance AutoGas says the system completed testing for the first on-road U.S. Diesel/LPG mixed fuel EPA certification. EPA certification was awarded on the Detroit Diesel 14 liter with the Volvo D13/MackMP8 expected soon.
Alliance AutoGas president Stuart Weidie says the Bi-Fuel autogas system can be installed in one day, is backed by a 1 year, 100,000 mile warranty and supported by nationwide parts and service availability. New conversions come with ultra-low emissions refueling nozzle, the safest and most efficient on the market.
According to Weidie, the system allows fleet owners to experience a fuel cost savings of 15 percent or more.