A few trucking industry economic indicators from the recent week:
[gttable cols=""]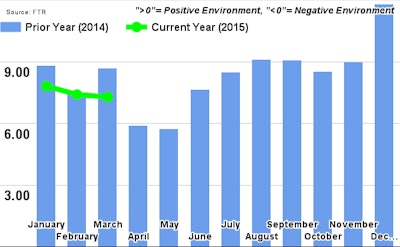 Trucking conditions rebound expected: FTR's monthly Trucking Conditions Index posted a moderate 7.3 reading for March, with conflicting factors of low fuel costs and lower truck demand driving the index' reading.
FTR, however, says it expects conditions for trucking companies to rebound as summer comes on. Capacity should tighten, FTR says, and truck demand should stabilize, both of which would push the index (and trucking conditions) higher.
Perceived weakness in the index, because of recent drops, is due more to a strong 2014 than a weak 2015, FTR says.
"Conditions for truckers and fleets remains quite positive despite the recent dip in the index," says FTR's Jonathan Starks. "This dip followed a very strong increase in the TCI over the last half of 2014 as solid volumes, good rate gains, and falling diesel prices helped propel the December index to its first double-digit reading since early 2010."[/gttable]
[gttable cols=""]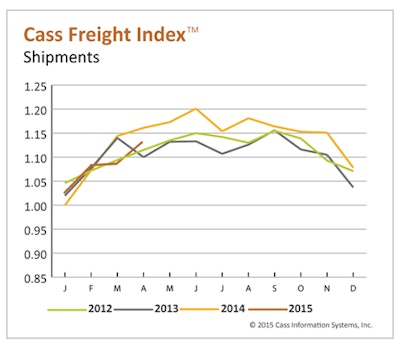 Freight climbs in April: The number of freight shipments rose for the third month in a row, according to the Cass Freight Index. The number of freight shipments (rail and truck) rose 4.2 percent from March. Truck shipments climbed 1.1 percent in March from February, the most recent month for which data is available.
Freight expenditures, however, were 4.7 percent lower than April 2014, Cass reports, due to stagnant spot market rates. Lower rates, however, have stemmed more from changes in fuel surcharges rather than actual base rates.[/gttable]
[gttable cols=""]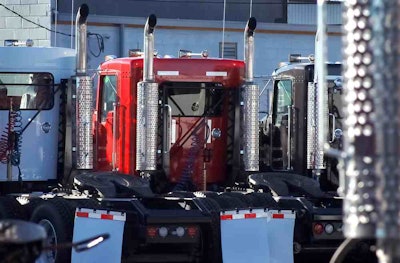 Truck orders stabilize following months-long upswing: Class 8 truck orders in North America were down about 10 percent from the same month last year, according to both ACT Research and FTR. Both firms peg the number of orders between 22,000 and 23,000.
Class 8 orders in the preceding 12 months now total 373,000, according to FTR's report, following several straight months at the end of 2014 and beginning of 2015 of high order numbers.
ACT's Kenny Vieth says the lower order numbers in April were expected, due to the strength in orders in recent months and to seasonal buying trends. "Rather than simply a harbinger of weakness, the slower order intake should be taken in a broader context. The pullback is a reflection of already large backlogs as well as a paucity of build slots remaining in 2015. This month's net orders were not a surprise, considering that the calendar is moving away from peak order season."[/gttable]