A look at a few trucking economic indicators reported this week:
[gttable cols=""]
ATA reports tonnage drop: Truck tonnage as measured by the American Trucking Associations' monthly For-Hire Truck Tonnage Index fell 3 percent in April from March, ATA reported this week. The index was also only up 1 percent compared to last April — the smallest year-over-year increase since February 2013.
"The next couple of months will be telling for both truck freight and the broader economy. Any significant jump from the first quarter is looking more doubtful," he said.
Tonnage is down 5.3 percent from the all-time high set in January of this year.[/gttable]
[gttable cols=""]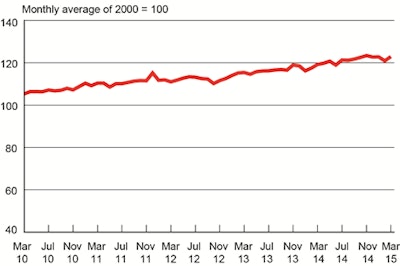 DOT reports freight increase in March: The amount of freight carried by the for-hire transportation industry, as measured by the DOT's monthly Freight Transportation Services Index, grew 1.7 percent in March from February.
The index reading, up 3.1 percent from the same month last year, was just four-tenths of a percent off from November 2014's all-time high. February's reading was also upwardly revised a few tenths of a percent.[/gttable]
[gttable cols=""]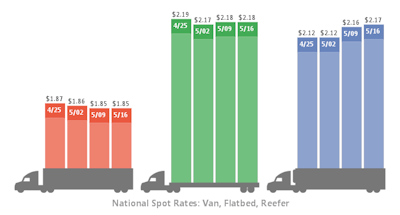 Spot market rates stable: Though the number of available loads on the spot market fell in the week ending May 16 by about 6 percent, according to DAT Solutions, spot market rates held steady in flatbed and van segments and reefer rates rose a penny.
The national average van rate in the week was $1.85 a mile. Reefer rates were at $2.17 and flatbed held at $2.17.[/gttable]